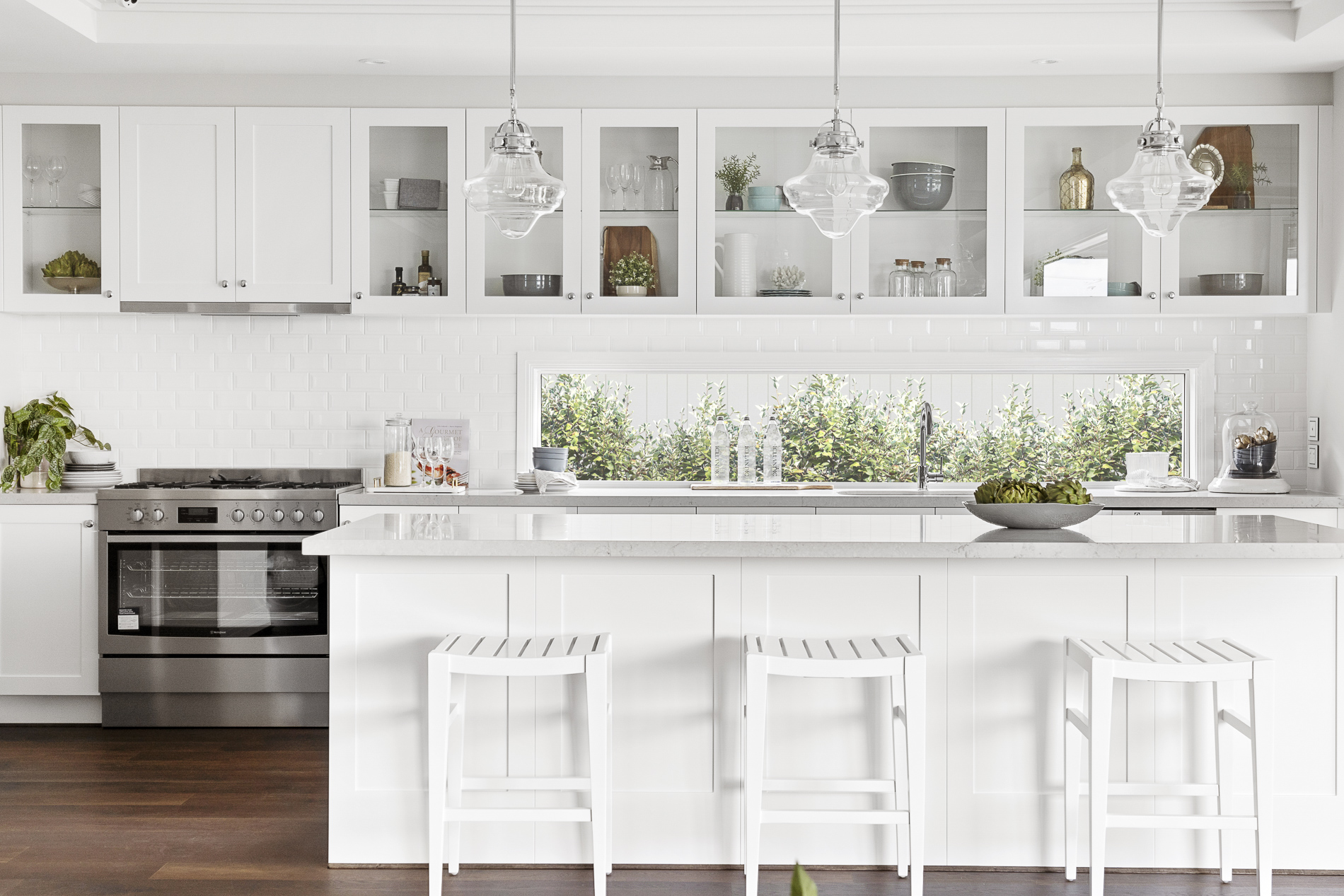 Orbit's Get The Look: Kitchen Edition
Whether you're cooking up a storm, eating or entertaining family and friends, your kitchen should be a space you want to spend time in- and a well-planned out kitchen can help you achieve that.
Over the last 42 years, Orbit Homes has maintained a strong partnership with Laminex and together both design teams have developed a beautiful offering of laminate for benchtops, cabinetry and panels- from engineered stones to acrylic surfaces for new homes across the East Coast of Australia.
As the center hub of most homes, there are several elements to a kitchen to consider when it comes to design palettes and materials. Choices in splashback, wall, island bench, benchtop as well as cabinet colours all play a key role in enhancing the beautiful design of your kitchen and ensuring that there is a seamless 'flow' between your indoor and outdoor spaces.
To help you get started on building and designing your dream kitchen, Orbit has created four 'Get The Look' guides from our most popular display kitchens.
Harpley's Aspendale 237 Kitchen
Contemporary, chic, and clean, this immaculate kitchen is designed for the modern Australian family.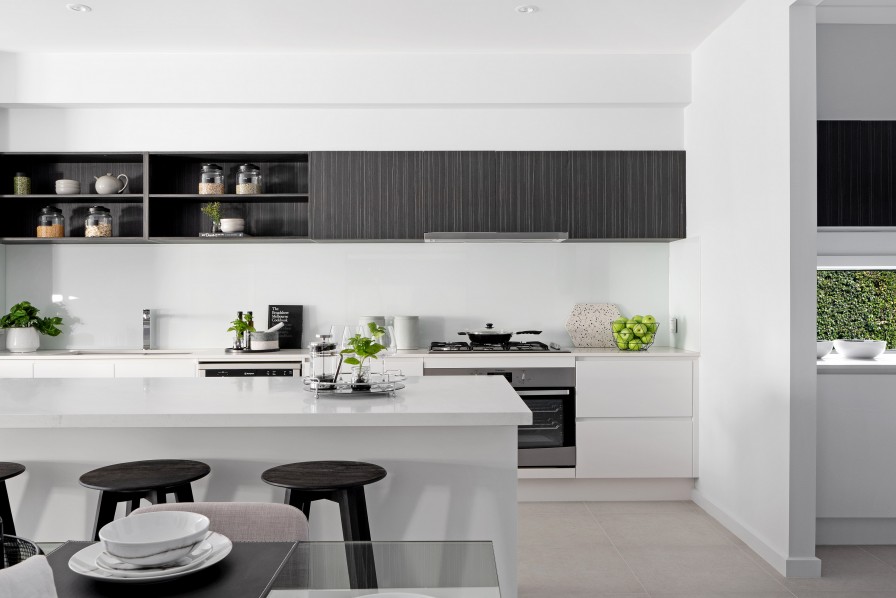 With the contrasting colour palette of glossy whites and black elements- this kitchen alludes to a sense of yin and yang, complementary in its nature alongside the subtle touches of greenery.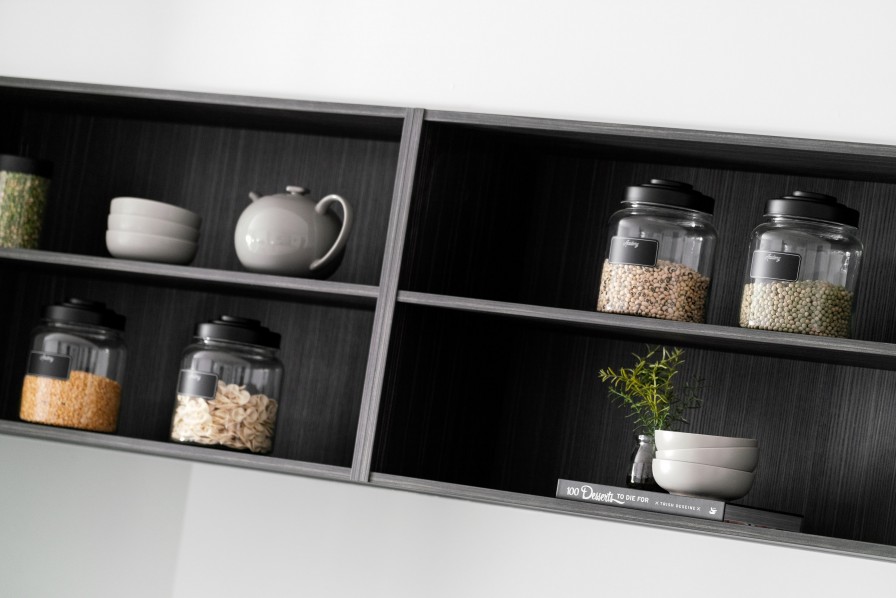 Through the inclusion of 1025mm long banks of Laminex decorated board open shelves to the overhead cabinetry, the space is divided- creating depth and structure to the functional kitchen. Furthermore, with overheads in the colour of black and nuance finish, the choice of open shelving allows you to incorporate storage pieces and ornamental elements based on your daily go-to's and needs.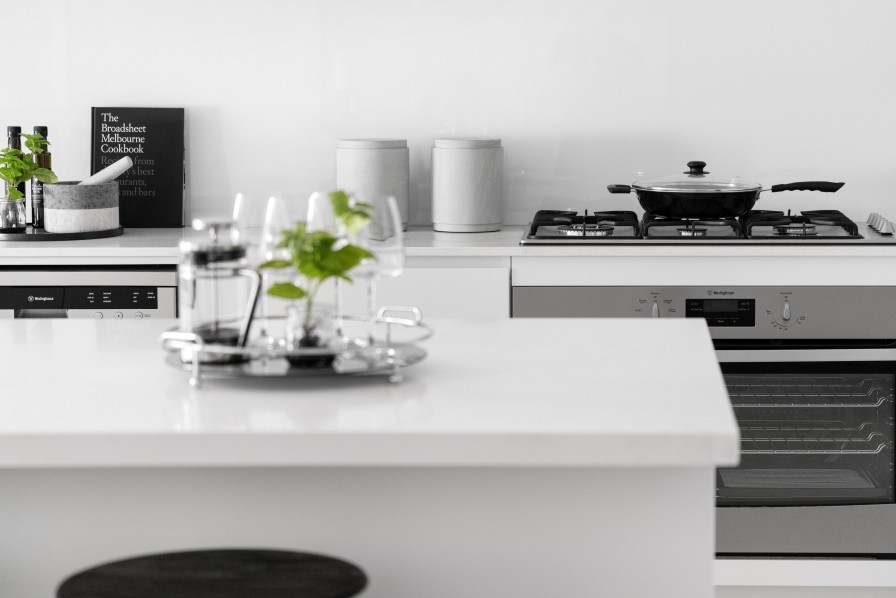 This impressive and inviting kitchen layout for our Aspendale 237 home design is interconnected with the outdoor living area- ultimately magnifying your hosting and entertaining possibilities. Currently, on display at our Harpley estate in Werribee, this designer kitchen takes Victoria's contemporary family living to the next level.
Newhaven's Sorrento 398 Kitchen
The Hamptons style is an ode to the East End of Long Island, New York, however, has been redefined to elude the Australian lifestyle- one that is coastal and relaxed.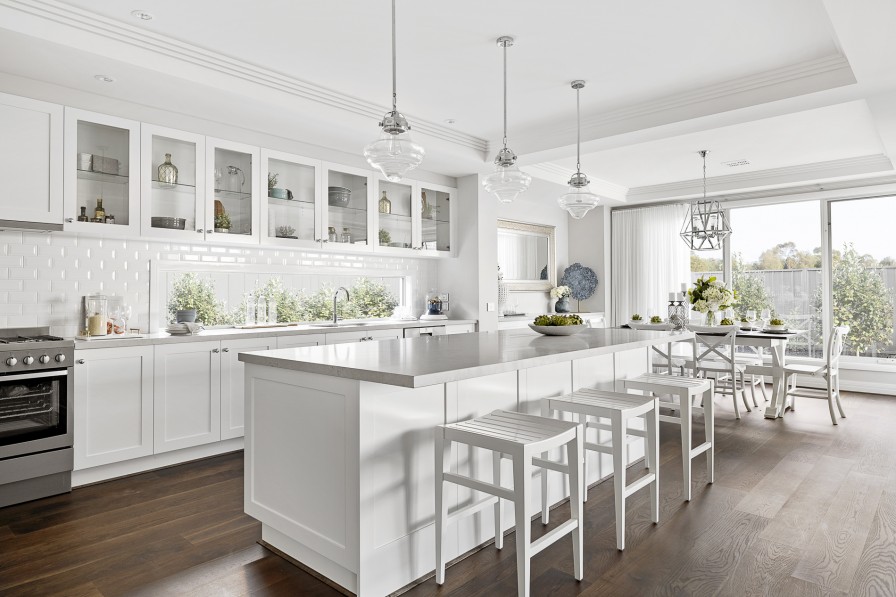 Within the open space floor plan, the deluxe galley kitchen includes a spacious walk-in pantry, traditional profile doors, and clear glass door inserts to the overhead cupboards- a show stopper in its own right.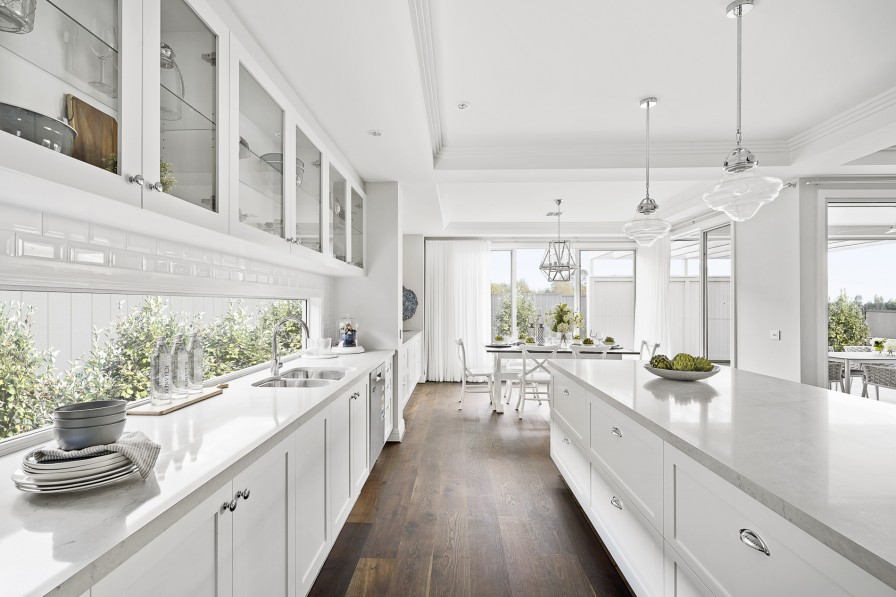 Complemented by crisp white subway tiles, a 40mm Caesarstone benchtop in Noble Grey and Laminex Polar White kitchen joinery- this expansive kitchen brings about a sense of openness and calmness that contrasts beautifully with the choice of dark timber flooring.
To view the Sorrento 398's kitchen, visit our Newhaven display in Tarneit where this big, bold and beautiful kitchen sets a new and unprecedented benchmark for family living.
Botanical's Aspendale 252 Kitchen
A local yet sophisticated interior design style, the Australiana aesthetic has grown in popularity over the recent years through its simultaneous ability to create a quintessentially light and breezy ambiance.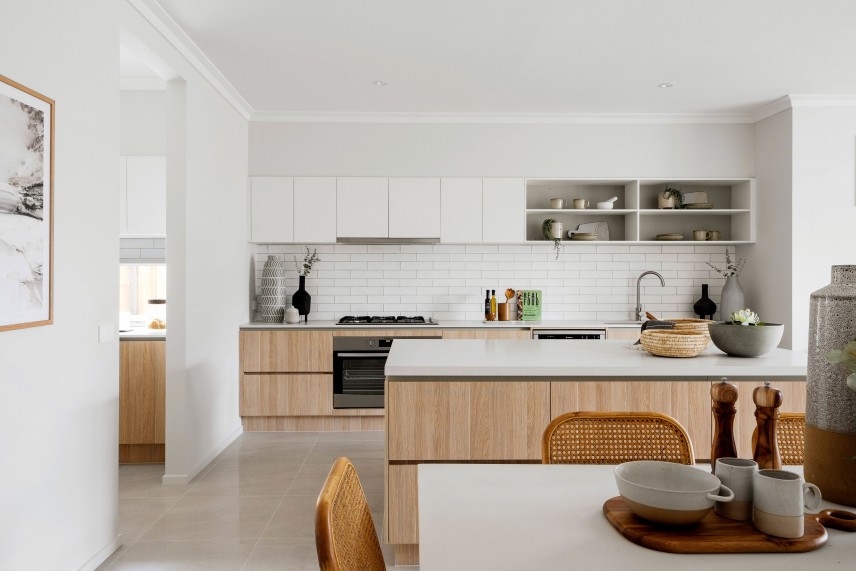 Created for families who love to entertain, this expansive kitchen includes a Westinghouse freestanding stainless steel dishwasher and Laminex Impressions joinery to the base, island and overhead cabinetry in the shades of white and classic oak.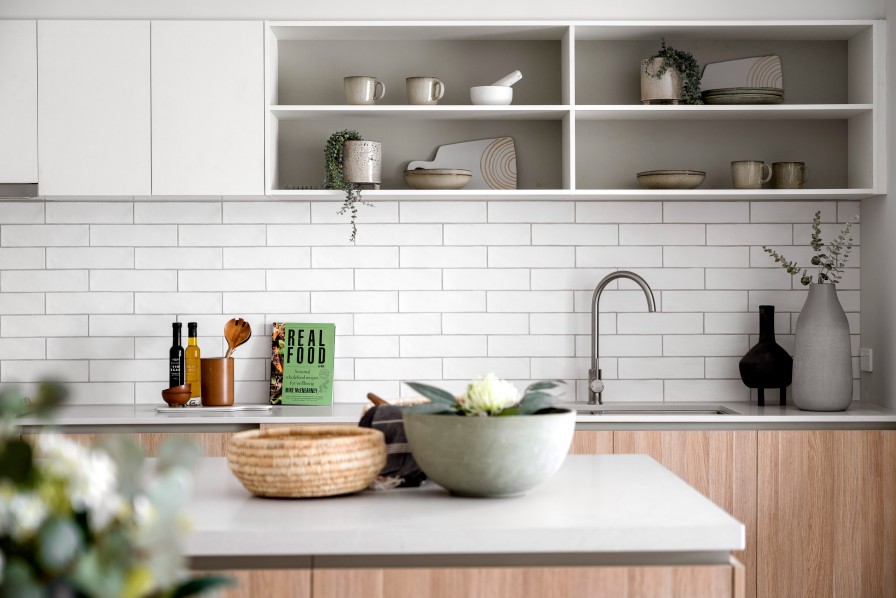 White subway tiles are further complemented with neutral tones of wood and are styled immaculately with grey sculptural ceramic elements. Moreover, through the incorporation of oak finishes throughout the home, a seamless flow is simultaneously developed across open living spaces within the home.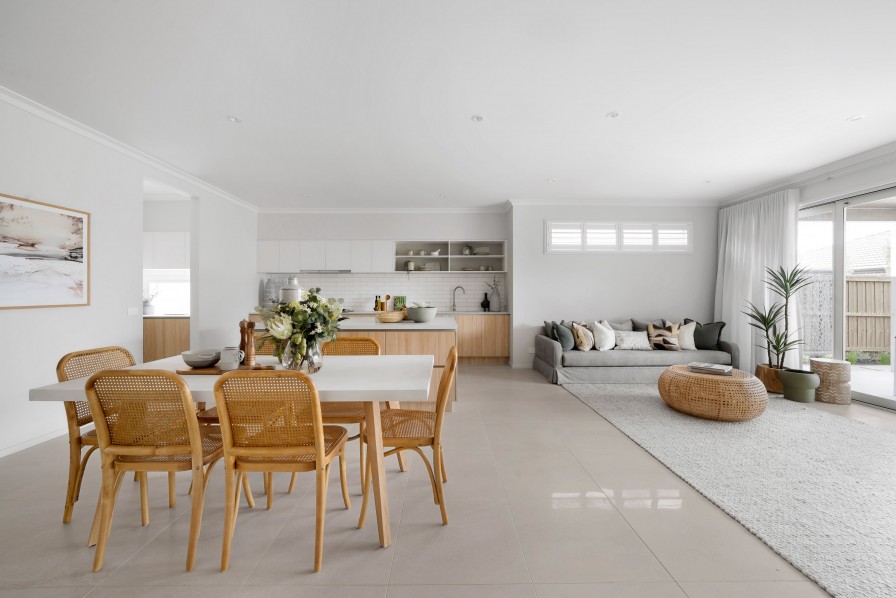 On display at our Botanical estate in Mickleham, this ergonomic kitchen in our Aspendale 252 home design is sure to impress your family and friends.
Carver's Reach's Caulfield 256 Kitchen
Stylish and functional, this villa-inspired kitchen layout for our Caulfield 256 home design is ideal for cooking enthusiasts with a sizeable island bench and a spacious walk-in Butler's pantry.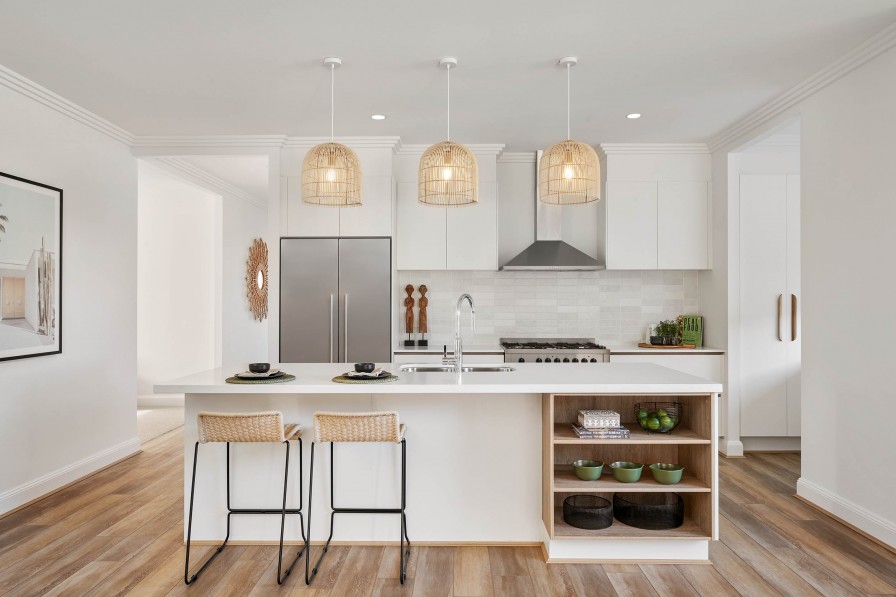 Rattan wicker pendant lights complement the choices in earthy hues that soften the kitchen palette while simultaneously providing a greater sense of tranquility and relaxation.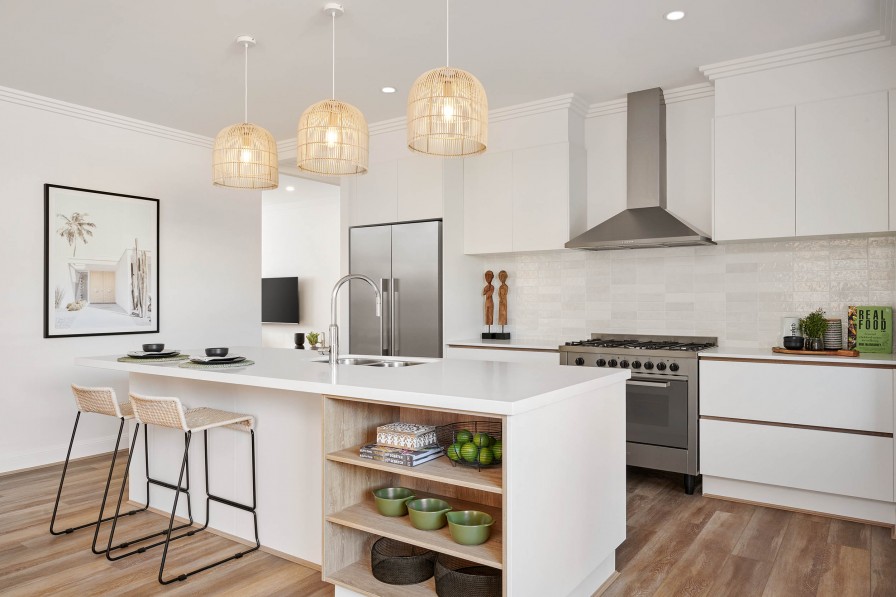 With Laminex Polar White kitchen joinery in both natural and flint finishes, as well as premium kitchen appliances by the renowned Italian cooking brand, ILVE, this kitchen recreates the ambiance of a day at the beach without setting foot outside the home.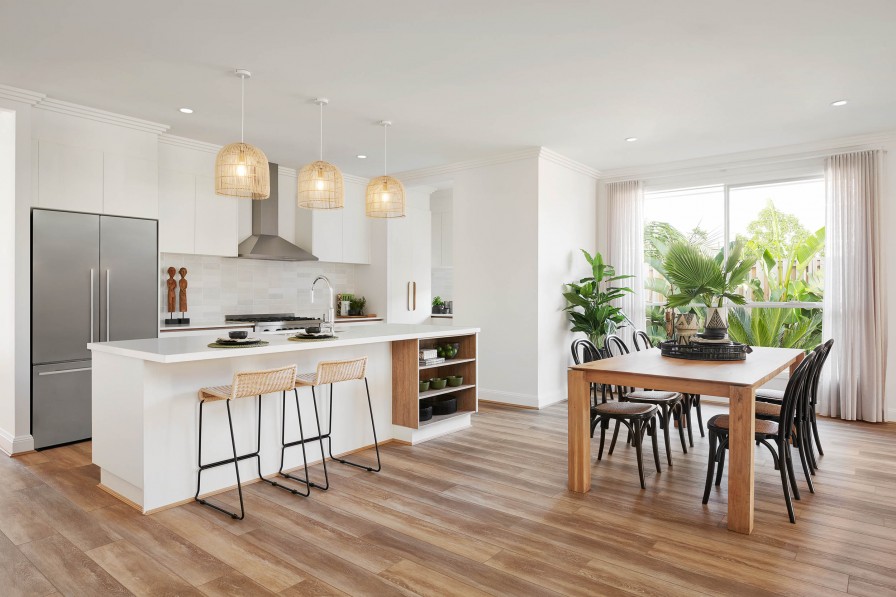 Furthermore, with direct access to the alfresco dining area - this floor plan is extended strategically for family gatherings, entertaining loved ones as well as a space to enjoy nature in your own private oasis. Currently, on display at Carver's Reach, this beach luxury kitchen is not to be missed on your next display visit.
Contact Us
Looking for further advice on how to design your dream kitchen?
Visit the Contact Us page today to fill out your details and one of our friendly New Home Sales Professionals will be in contact to help you start your build journey.