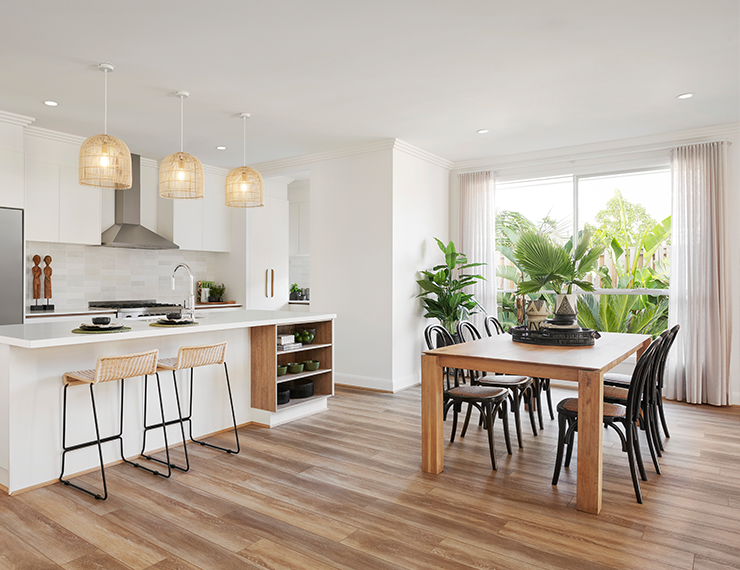 Introducing Orbit's New Home Designs for 2021 - Part 1
Orbit has recently added a range of new home designs to it's product collection, all officially launching in 2021. These new releases include a selection of contemporary, classic and designer floor plans that will precede the new year trends. Because we build every home as we would build it for our family, these new homes are designed to support your lifestyle and each one caters to the most sought-after characteristics, as requested by our customers across Victoria and Queensland.
Forming part of the new home range, Orbit has created a 'lot specific' series, tailored specifically to common land sizes and block orientations.
For narrow blocks
If you're looking for a smaller home design, or one that will accommodate your block of land, Orbit has launched two smaller single storey home design options, ideal to suit a narrow 8.5m block. Both Carlton 140 and Carlton 164 are great options for first home buyers planning their future as well as young and/or growing families.
Carlton 140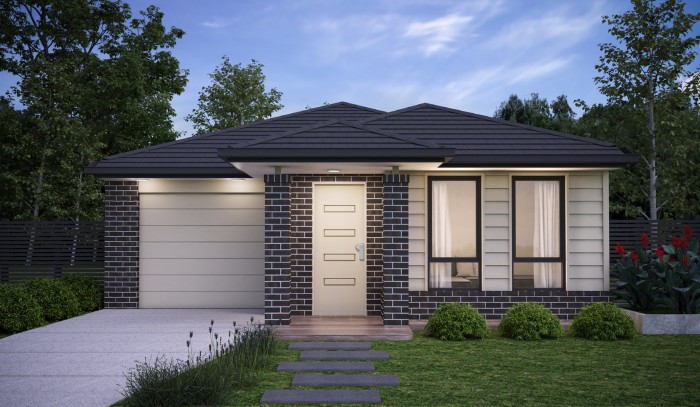 An excellent example of how single level living can be perfected on a narrow lot, Carlton 140 is a three bedroom home design totaling 140m², tailored to maximise functionally while allowing your family room to grow.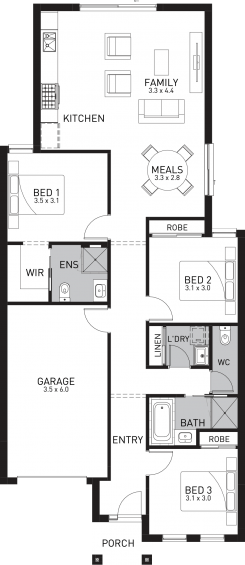 The entry hallway stretches all the way to the rear of the home, beautifully dividing the space. The design cleverly nestles the master bedroom complete with ensuite and walk in robe behind the garage, maximising privacy and giving parents a separate space to unwind. Two additional bedrooms, both featuring built in robes are positioned opposite the hallway giving the kids space to play. A well-positioned designer kitchen overlooks and adjoins a spacious and naturally lit family/meals area that completes the picture.
Carlton 164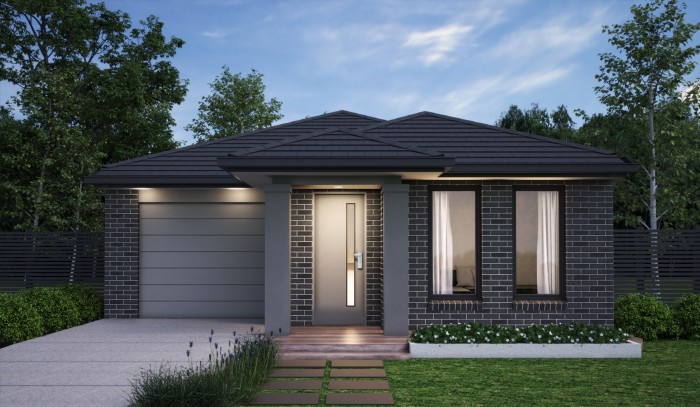 If you have a narrow block, but are looking for a home with bigger proportions and more space to grow, Carlton 164 is a four bedroom home design totaling 164m².

The design layout differs slightly, with the master bedroom, ensuite and walk in robe positioned at the front, maximising natural light and giving parents a private sanctuary to relax. Two additional bedrooms, both featuring built in robes are positioned nearby, one directly behind, ideal for the youngest family member, and the other nested just across the hallway. The additional fourth bedroom is positioned towards the home's rear, separated by a spacious bathroom and features an extra-large build in robe, ideal for an increasingly independent teen, extended family member or guest, offering extra privacy and a quieter retreat.
For Corner Blocks
Corner blocks are attractive because they offer many advantages including additional access points, more light and extra space for parking. To cater to this, Orbit has launched three new designs tailored to suit corner blocks while maximising functionality with two street frontages.
Brunswick 221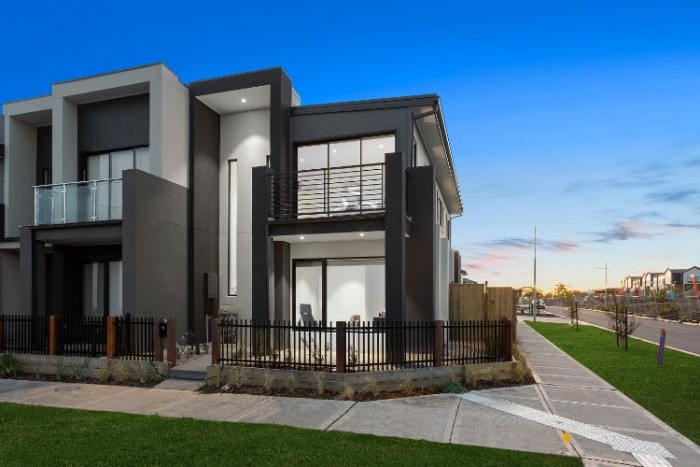 (Above image is used for illustrative purposes only.)
Creatively designed to boost your home's kerb appeal, Brunswick 221 is a four bedroom home designed to fit a 16 metre square block and is 221m² total. This stunning design comprises a master bedroom with ensuite and walk in robe situated downstairs as well as three additional bedrooms, each with their own walk in robe located on the upper level, allowing every family member ample space to retreat and relax. Upstairs also features a secluded entertainment space, one of three, plus a large second bathroom and walk in laundry. Downstairs is the ideal place for family members to gather with a superb open plan gourmet kitchen adjoining the open and inviting living and meals area.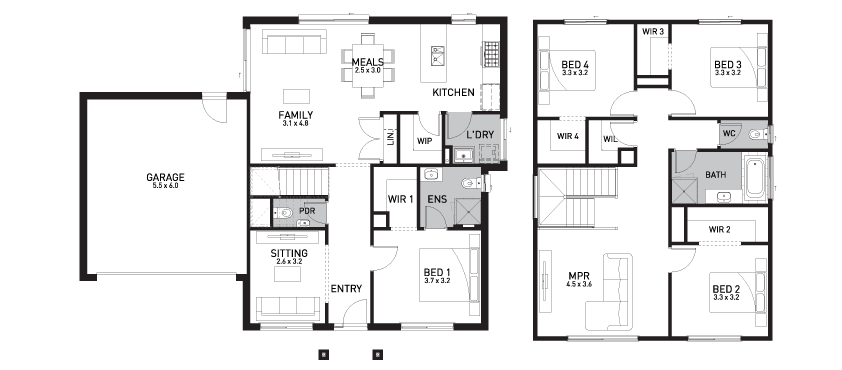 Brunswick 224
If your corner block is better suited to a home with bigger proportions, consider the Brunswick 224, a similar design orientation totaling 226m². With the same well-considered layout, Brunswick 224 offers all the design flourishes of Brunswick 221 but with larger proportions, allowing every family member ample space to relax. The master ensuite is elevated with a double vanity and extra room to retreat, and the additional three bedrooms are also more spacious.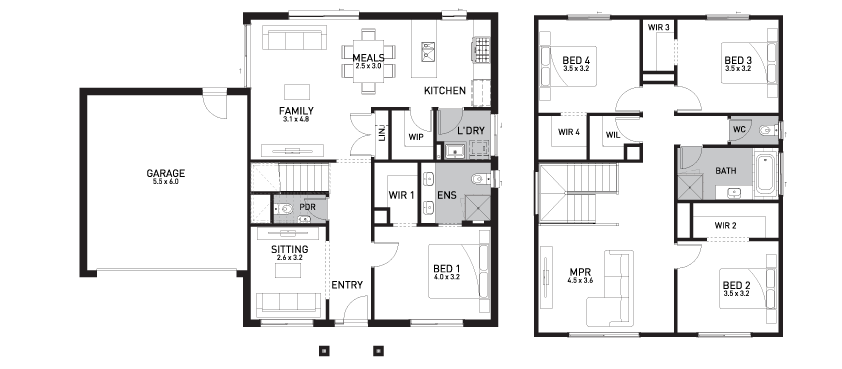 Fitzroy 146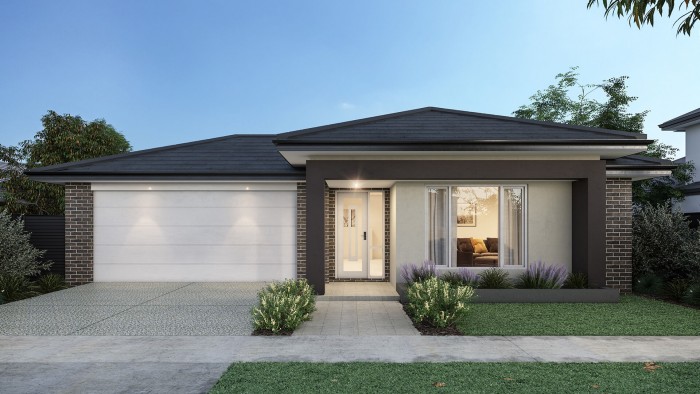 For 16x16 square blocks, there is also a new single storey design option - Fitzroy 146. This design features functionality at every turn with a seamlessly designed flow between private and communal zones. Still a sizeable 146m², this three bedroom home design offers well positioned living zones for parents and children alike.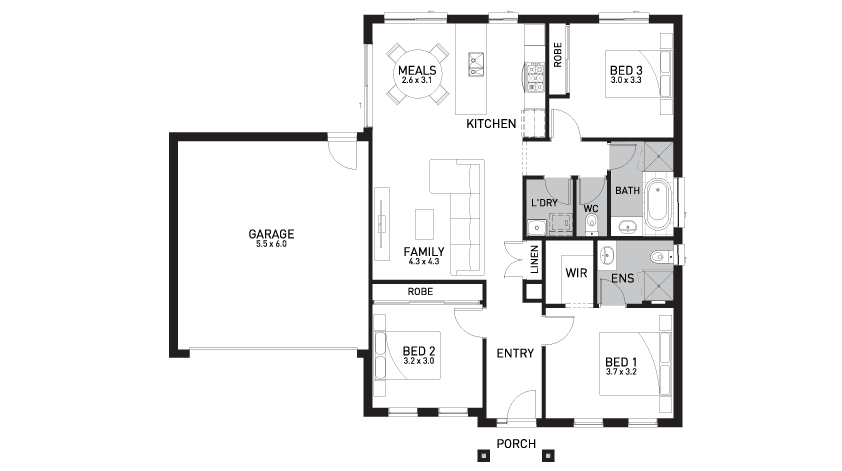 Welcoming you with a grand entry hallway, the Fitzroy 146 has two naturally lit bedrooms positioned at opposite sides of the home's front, both with ample space and generous built-in storage. The large master bedroom also features a walk in robe and luxurious private ensuite. A second, beautifully appointed family bathroom is positioned centrally, with the laundry neatly nestled beside and a third, more private bedroom positioned at the rear. The home's communal space is the spectacular open plan kitchen, meals and living area, which sets a scene to delight the whole family, whether it be to relax or play.