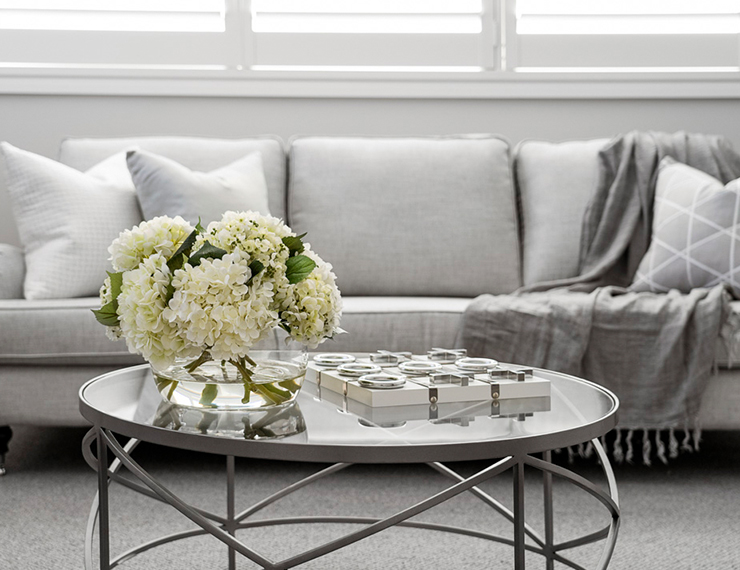 Hamptons Perfection - A Video Tour of Sorrento 398 at Newhaven Estate
This elegant double storey home is classic and sophisticated and offers an array of luxury features; five bedrooms - each with separate walk in robe, three bathrooms and three versatile family/entertainment/relaxation spaces. Sorrento 398 also boasts two parallel dining spaces - one indoor and the other a versatile outdoor alfresco space. Add to this, the deluxe, open plan galley kitchen with spacious walk in pantry and you have the complete dream home package. Sorrento 398 delivers 42.2 squares of modern and well designed living space and is the second smallest among five designs in Orbit's stunning Sorrento range.
The Facade - Hamptons Exterior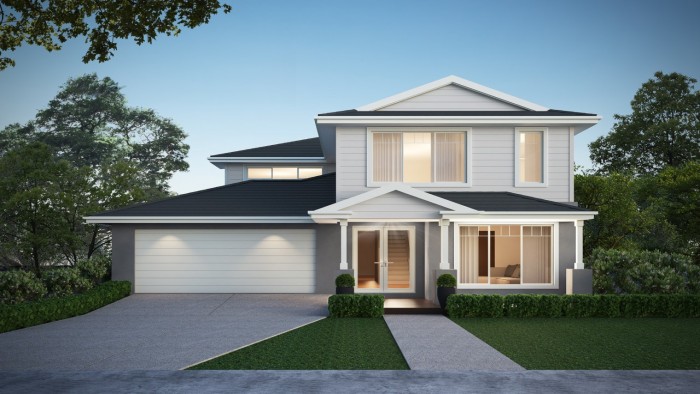 The Sorrento 398 display at Newhaven Estate features the Bridgehampton facade, a modern Australian interpretation of the Hamptons look. The facade colour scheme is centered on a light and warm coastal colour palette - the creams and beiges conjuring visions of the relaxed Aussie beach lifestyle. A key feature of this facade is the weatherboard look cladding, a versatile and weather resistant product crafted by James Hardie. The horizontal lines featured on this cladding create charming shadows and are a distinctive feature on classic Hamptons homes.
Facade features:
• Masonry render painted in Tabby by Colorbond
• James Hardie Linea Weatherboard cladding painted in Colorbond Surfmist
• Composite timber cladding in Eagle Crest
• Bristle Roofing tiles in Char Grey with Lapped Ridging
• Aluminium Window and Sliding Door Frames in Colorbond Surfmist
• A Sectional Garage Door with a Modern Profile in Colourbond Surfmist
Ground Floor Interior Styling - Relaxed Yet Timeless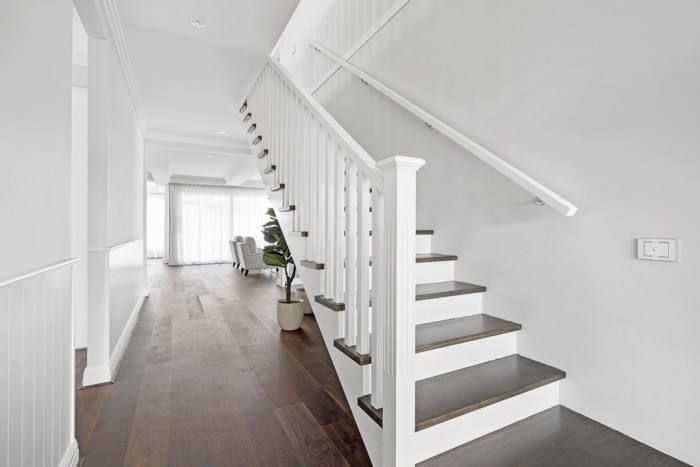 As you step into the Sorrento at Newhaven Estate, you will notice the crisp white walls, high ceilings with profiled architraves and the classic white timber paneling along the hall that meets the high and perfectly balanced profiled skirting. This classic look is paired well with warm timber flooring - a rustic matte oak in the shade of Mocha.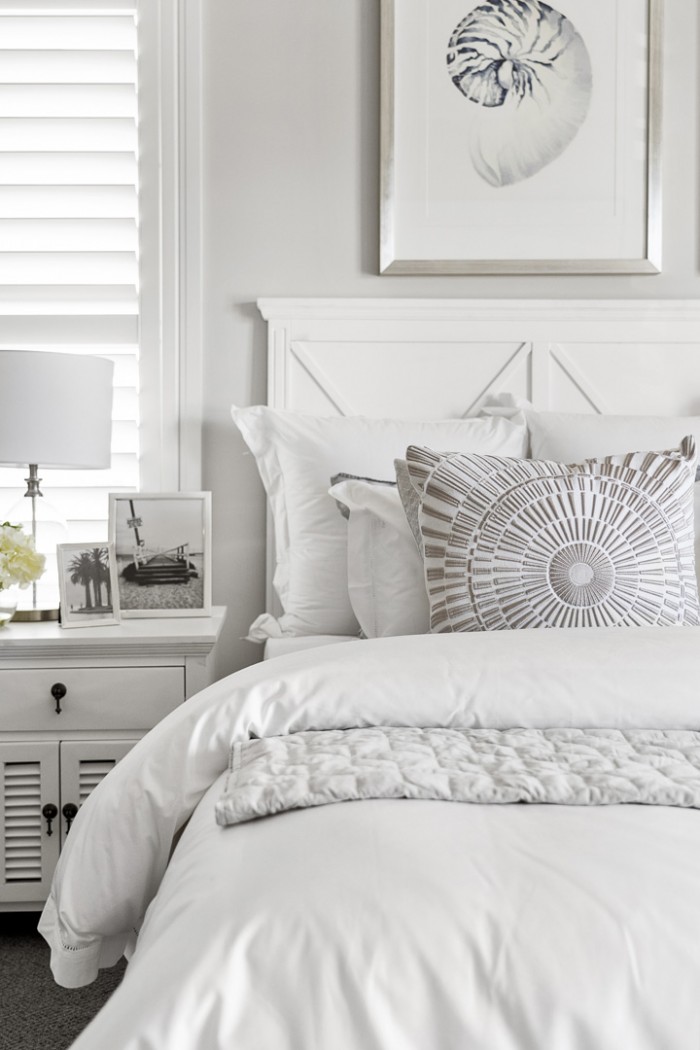 The base palette for Hamptons styling is typically white and grey, and you will notice this as you view the stunning guest bedroom to the left, with its own private ensuite and walk in robe. The styling in this guest haven features subtle pops of blue incorporated through the tasteful textiles and decor. As you walk beyond the staircase the classic Hamptons colour palette becomes more apparent, with shades of grey and white on display in the media room. Soft 'S-fold' sheer curtains in a warm shade of grey allow soft light to gently flood the room. The feature wall is painted in the shade Tabby and adds a relaxed feel to the room. An extra large, extra plush cream-toned four seater couch is paired with textured cushions in warm grey tones and sits beside a luxurious fabric covered coffee table - a piece that centers the room, with its glamorous deep diamond tufting.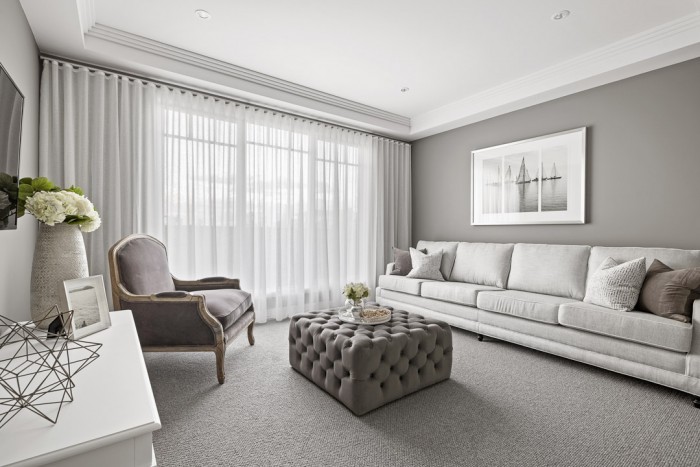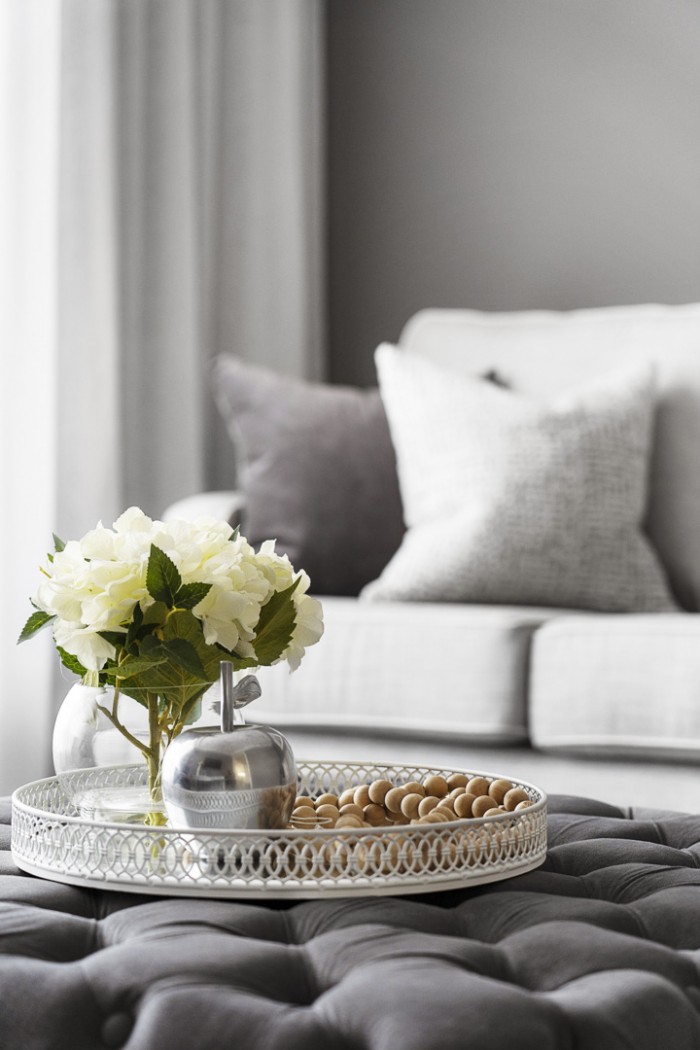 Beyond the media room, the home opens up onto an interconnected kitchen, meals and family space - the home's hub. The expansive kitchen features classic white subway tiles, a Caesarstone bench top in Noble Grey and Polar White kitchen joinery. The profiled cupboard doors are of course the classic Shaker style - Hamptons at its finest. Accompanying the kitchen island are three white timber stools - simple, elegant and well positioned directly below the three feature pendant lights, tasteful and understated in this timeless scheme. The dining area also features a white washed timber dining set with huge windows, floral arrangements and a well positioned mirror adding to the bright and light feel of this space.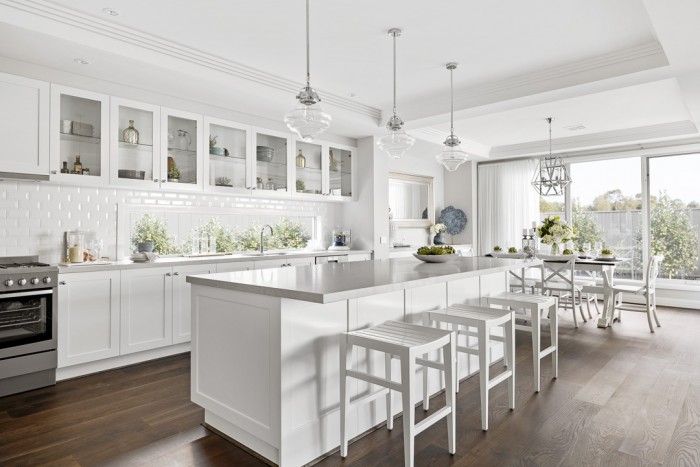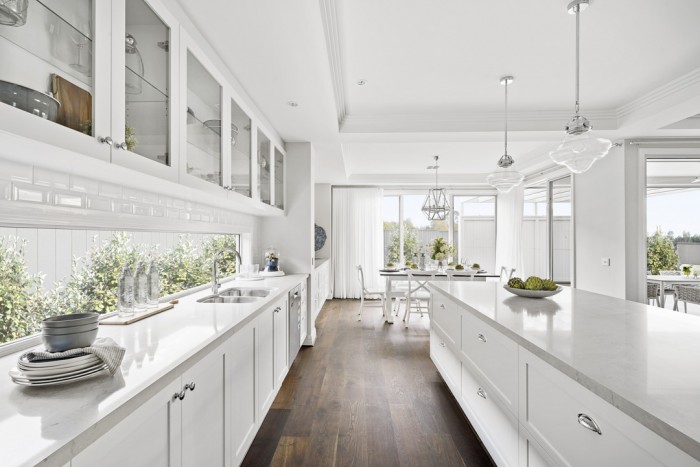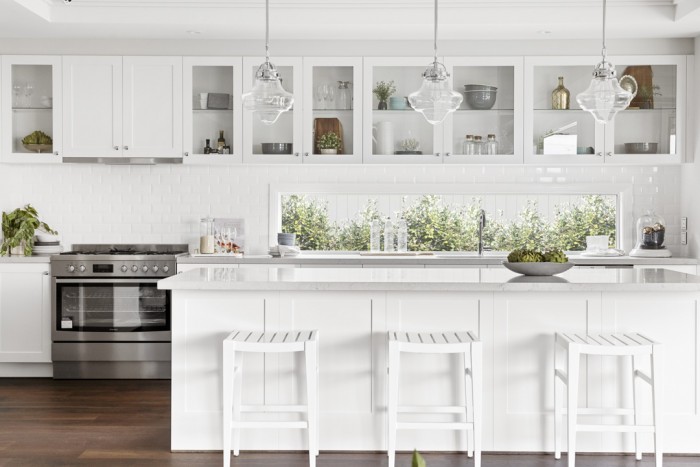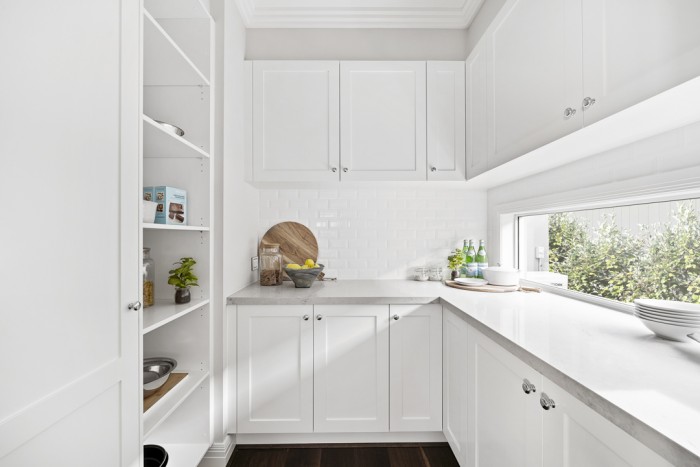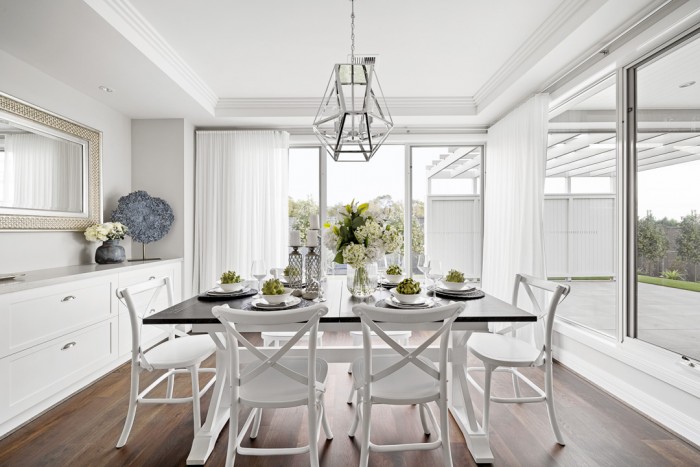 Upstairs Styling - Bedrooms With Hamptons Authenticity
The upstairs area is a sanctuary of seaside tranquility with each bedroom featuring it's own unique Hamptons styling. Upon entering the hotel-style master suite, you will notice the sense of openness and space as it is well positioned at the front of the home to capitalise on the natural light. The suite features double walk-in-robes, a balcony and an extra large ensuite, complete with twin showers and a Caroma Cupid 1700 freestanding bath - the room's centerpiece. The grey marble 600x600 floor and wall tiles add a touch of modern luxury and pair well with the pure white Caesearstone bench top and Polar White cupboards - again featuring the classic Shaker profile.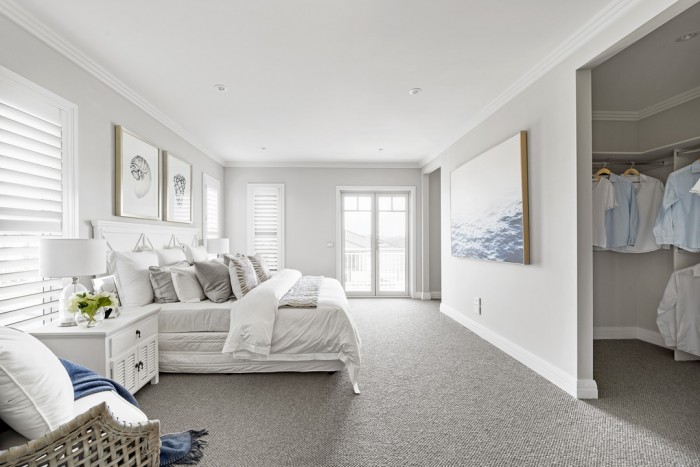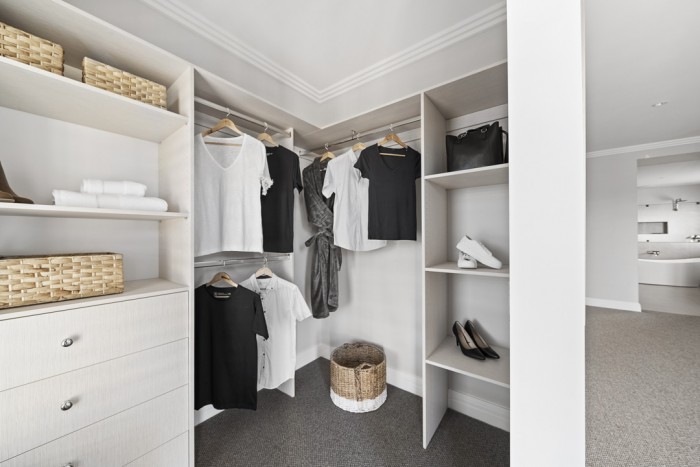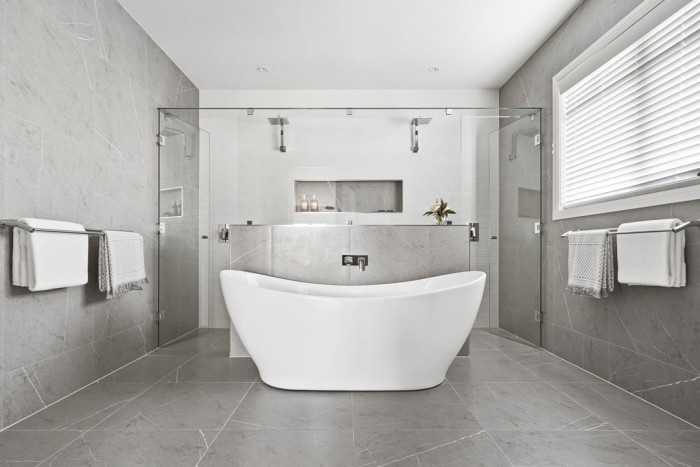 Between the master suite and the additional three bedrooms is a generous sized rumpus/sitting room - a perfect space for family members to retreat to and relax by watching TV together at the end of the day. Each of the three bedrooms is well positioned towards the back of the home and each features large, high windows to maximise light and maintain privacy. Plantation shutters are the window coverings of choice throughout all bedrooms and these add an elegant aesthetic impact. The carpet used throughout these rooms is a chunky loop pile in Dark Grey from Carpet Call - and brings a sense of cosiness and comfort. White-washed timber furnishings are used in each room, and you will notice the distinct and cleverly styled pops of colour to add a personalised touch to each child's space. The light and dark blue hues are well suited, but the soft pink in Bedroom 4 is full of warmth and simply dreamy - a styling masterpiece not to be missed!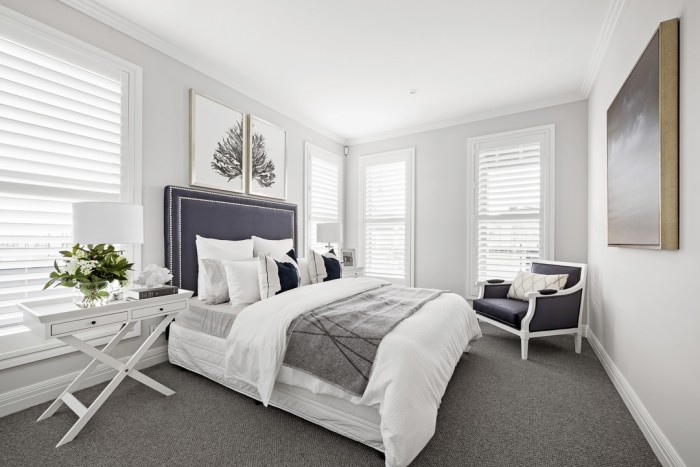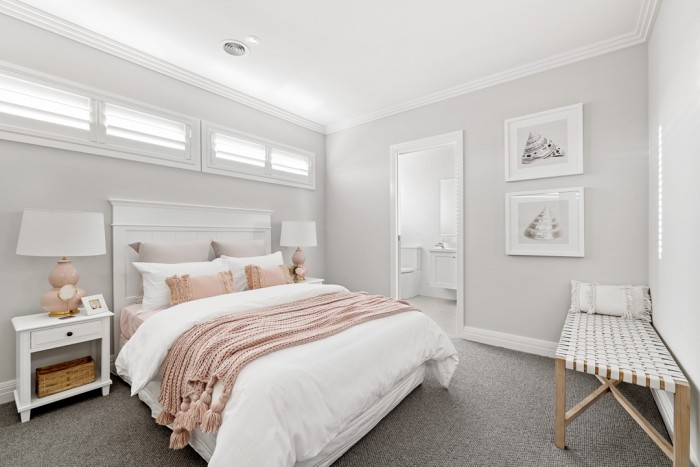 Watch the video tour of Sorrento 398 at Newhaven Estate and if you have any questions, contact us today!