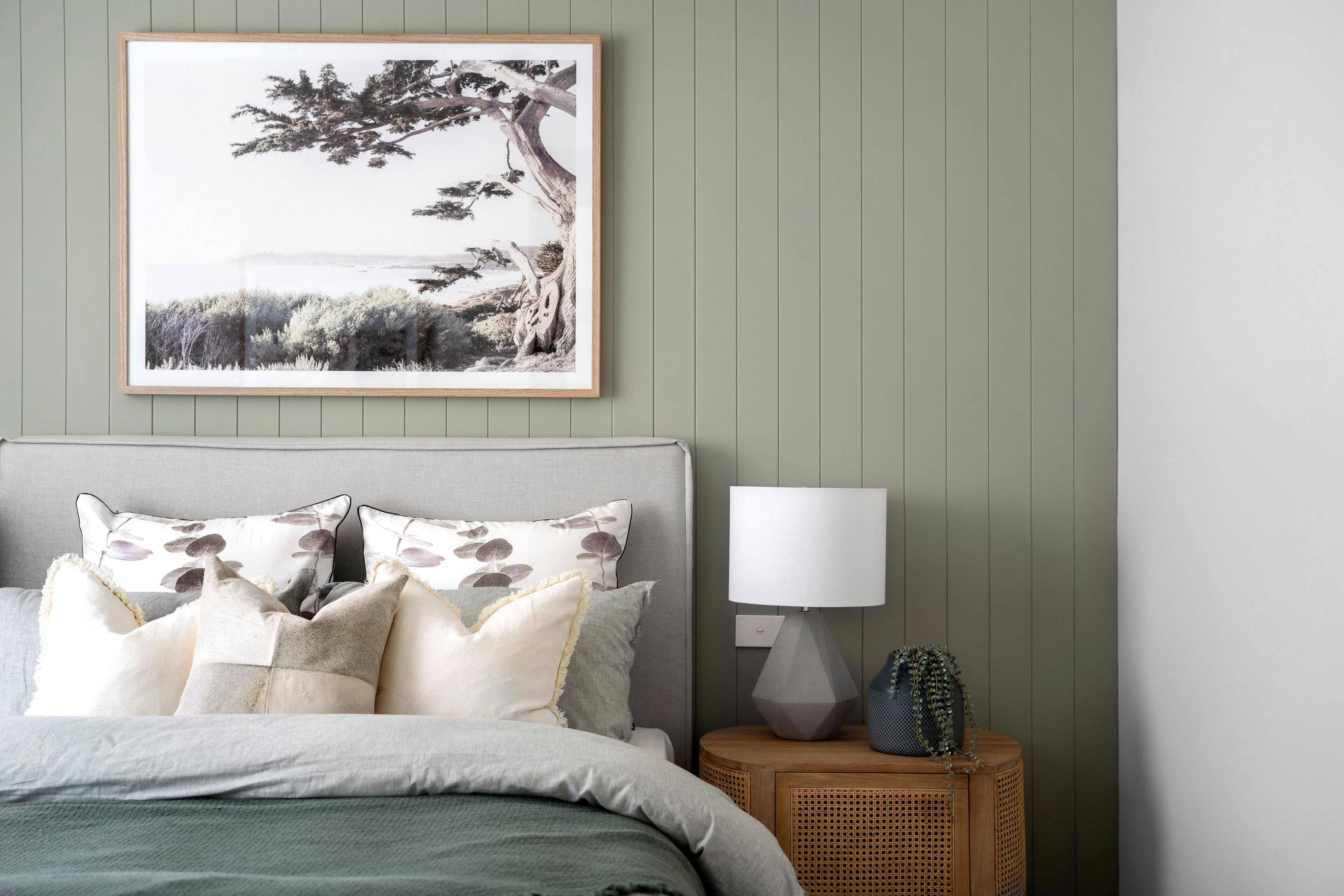 Autumn Interior Styling Trends 2021
With the summer season done and dusted, welcoming the cooler months through au courant interiors may seem tricky, however, Orbit has got you covered this Autumn.
The trends we are seeing this season are inspired by sustainable architectural practices as well as stylish functionality. With geometric furniture making a comeback and earthy tones driving the interior design space to unprecedented levels of balance and chicness, the four trends taking off this season will turn your space into an Architectural Digest worthy feature in no time.
Curves & Organic Shapes
Curvaceous furniture and decorative pieces are making a shapely statement this Autumn- providing us comfort with a touch of luxury and tranquility.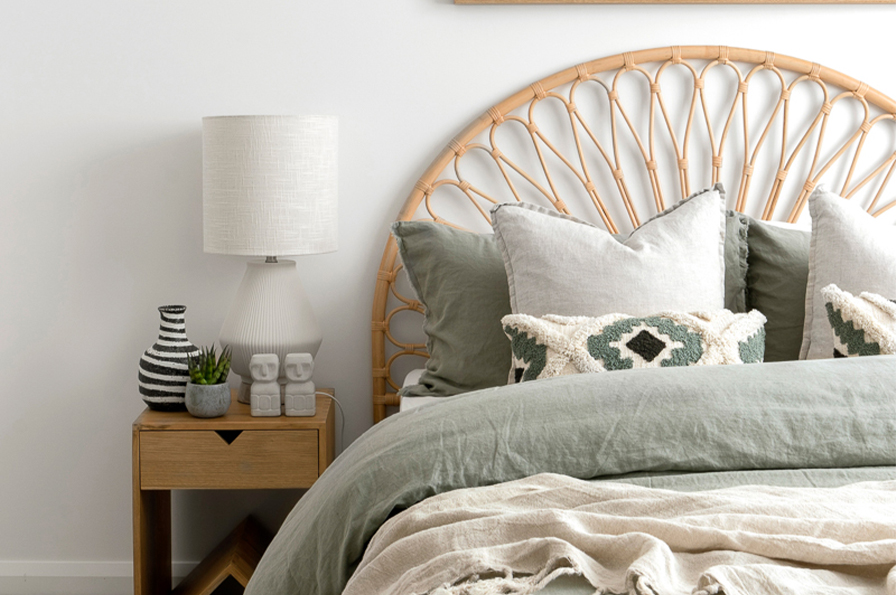 An ode to the 1970s, the New Art Deco esque pieces are making a statement once again through its simultaneous ability to elevate a space with little effort as well as soften a room when juxtaposed with more structured lines and interiors.
Whether the furnishings are subtly rounded or fully circular in shape, a mirror, sofa or bedhead can uniquely create a sense of balance and continuity depending on how it is styled. If desired, circular furnishings can become the focal point of the room through its positioning within the space and choice of muted accent pieces. Contrastingly, smaller furnishings with more-elaborate curves can be used as decorative sculptures and create harmony alongside bolder and structured elements.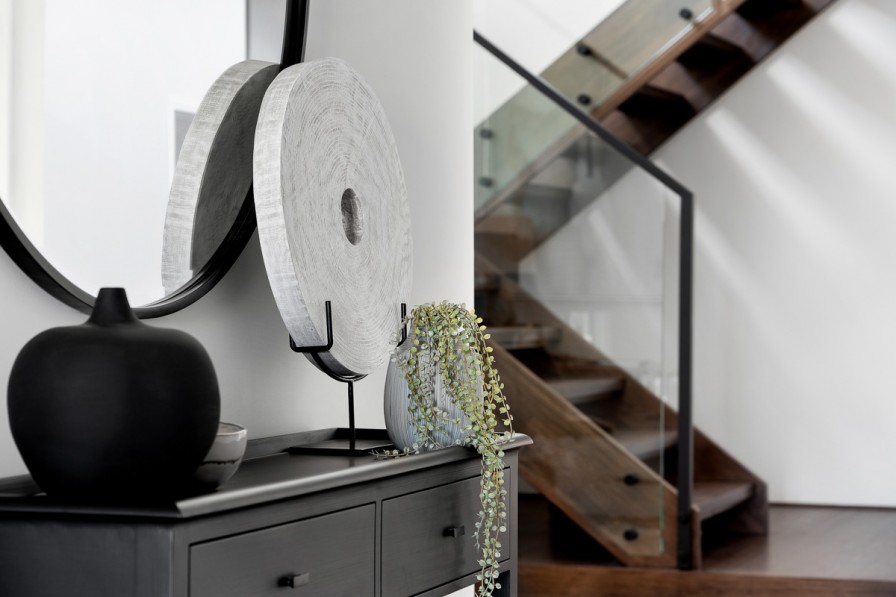 Evidently this season, retailers are showcasing a variety of circular decor pieces in their collections that lend themselves to this trend.
Natural Materials
As sustainable architectural practices transcends into interior design choices, natural materials such as wood, marble and wool have become prominent across designer homes across Australia.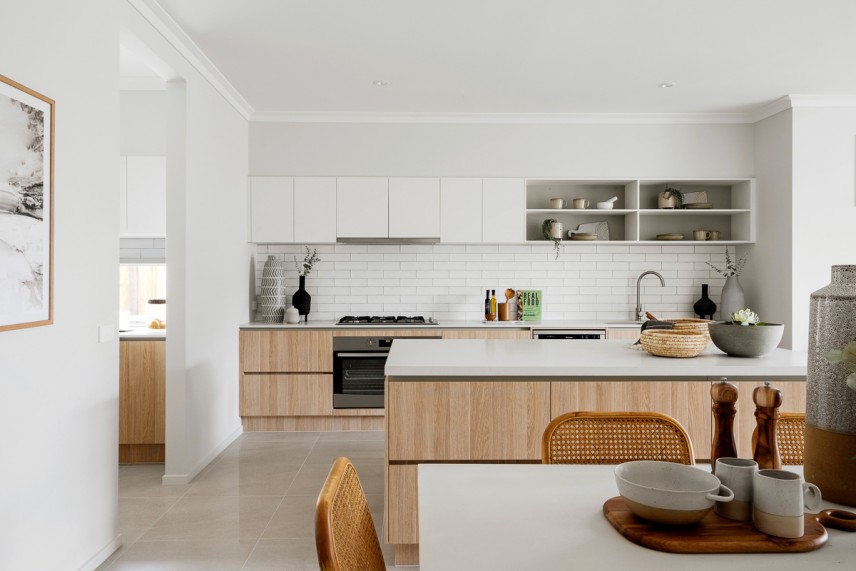 On display at Botanical Estate
Although this trend is timeless in its own right, the eco-friendly materials have the ability to create a sense of serenity and calmness to an environment while being complimentary to bolder choices of furniture and fixtures.
Alongside its mass popularity and a go-to material choice for interior designers when styling display homes and suites, natural materials are transitional across seasons beyond Autumn making it a worthwhile investment.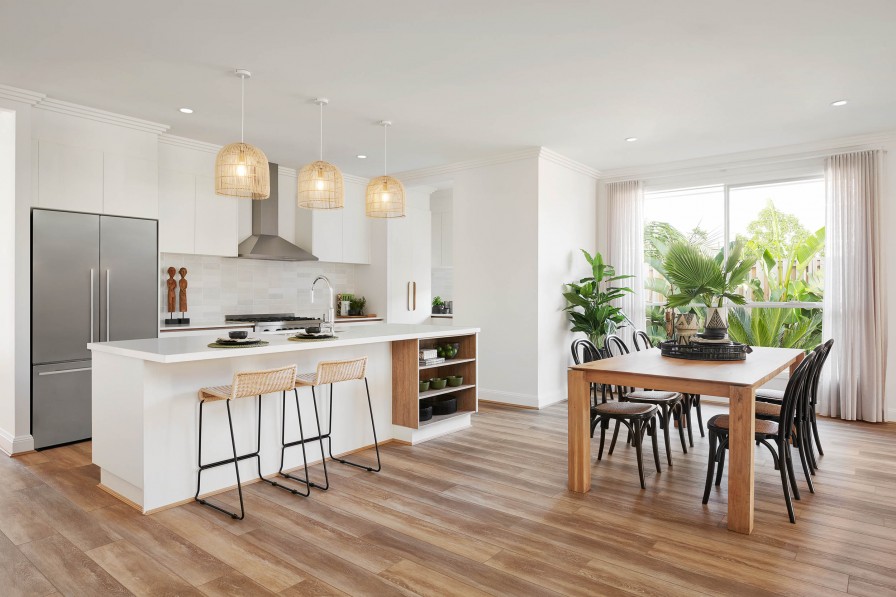 On display at Carver's Reach Estate
For example, rustic, earthy materials such as light toned wood and linen embody an Australiana atmosphere, whereas, concrete and metal materials embraces a modern yet edgy vibe- similar to an industrial aesthetic.
Whatever your interior design style is, natural materials versatility allows you to create sensational spaces that often is low-budget due to local production and/or repurposed from other natural materials.
Earthy Hues
As we move away from the colder months, Autumn is the perfect excuse to get cosy and the best way to do so is to say goodbye to cooler tones and incorporate warm earthy hues throughout your home.
Easily achievable and cost-efficient, tones such as soft browns, beige and terracotta can be integrated through paint colours as well as furnishings.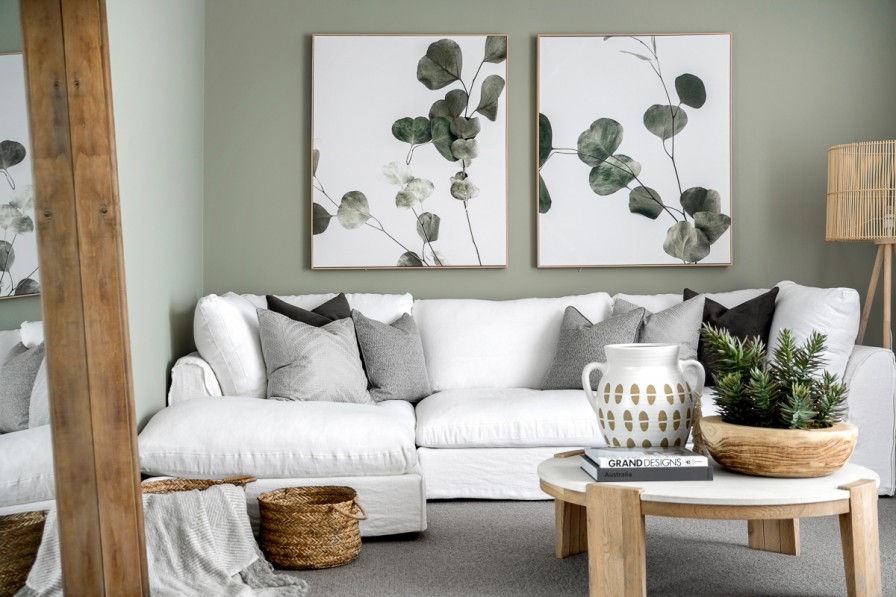 On display at Botanical Estate
Places where earthy shades work best include open living areas such as family and living rooms as well as in bedrooms through choices in decorative cushions, rugs and throw blankets. However, don't be afraid to experiment with deeper earthy shades such as rich browns and wine in upholstery and furniture items to incorporate a sense of mystery and sophistication to a space.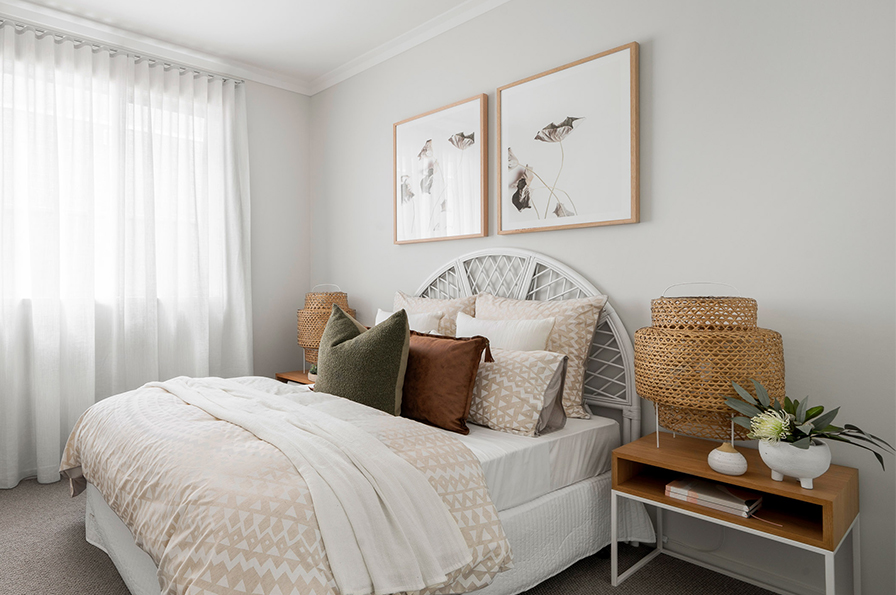 On display at Botanical Estate
Moreover, while earth tones are a great way to add a sense of comfort and warmth to a space, they also work great with any decorating style and can be used to accompany every material.
Metallic & Contemporary Lighting
This season, metallic light fixtures as well was sculptural lamps are on trend and its obvious why. Not only do they draw attention to different zones within a space but they also have the ability to create functional zones and accentuates an emotional impact in specific areas. Accent and unique sources of light especially can evoke a sense of drama and highlight attractive features in the room including framed artwork or special trinkets.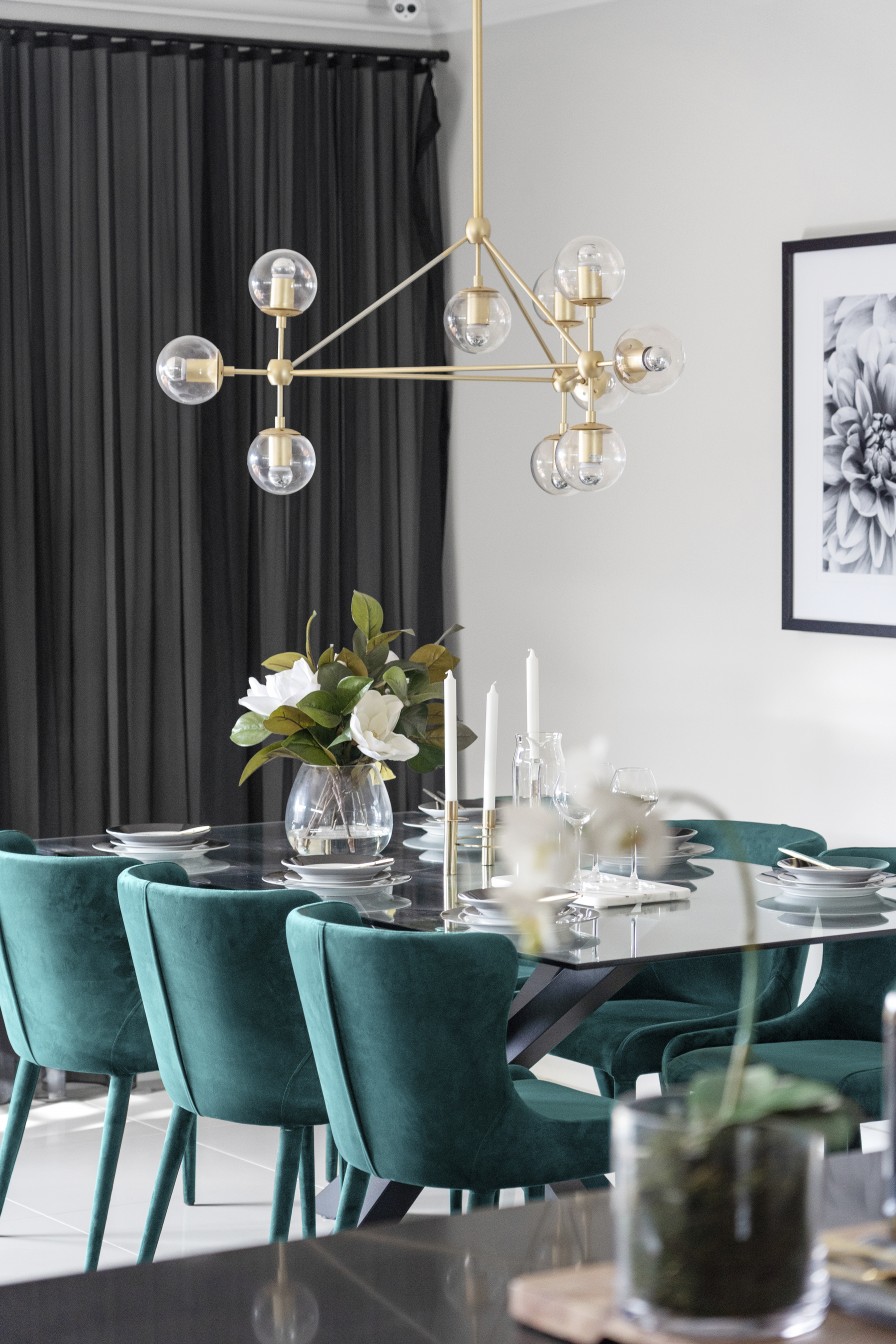 Brass pendant lights, uniquely shaped table lamps, and arc floor lamps are three of Orbit's favourite light fixtures this Autumn- bringing in a whole new level of poise and modernistic aesthetic. Incorporated well in living spaces and bedrooms, through the addition of multiple lighting sources in different shapes and sizes, you can help create another layer of dimension which helps set the mood.