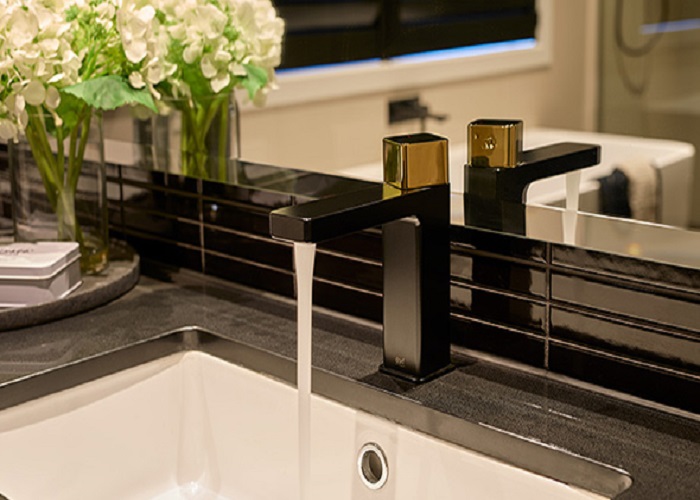 Easy Bathroom Style
Let's talk bathrooms.
Bathrooms are the one part of the home that is often overlooked when making colour selections. However, it's a part of the home that you spend a lot more time in than you realise. It should be your own private sanctuary, a place to wind down after a long day. We've made it easy for you to find your perfect bathroom design in your new luxury home with the following inspiration and tips.
Organic style
The organic-inspired bathroom is all about neutral colours, natural textures and soft, curvaceous forms.
Try incorporating basins and tapware with rounded edges, as we have in our Bolton 39 ensuite
Tile selections should lend towards a matte or semi-polished finish. In our Bolton 39 ensuite, we've used a gorgeous feature tile in the shower niche. It almost replicates the gentle grooves left on the sand from a wave. The floor to ceiling tiling also helps create a spa-retreat feel
Add the finishing touch with a pop of greenery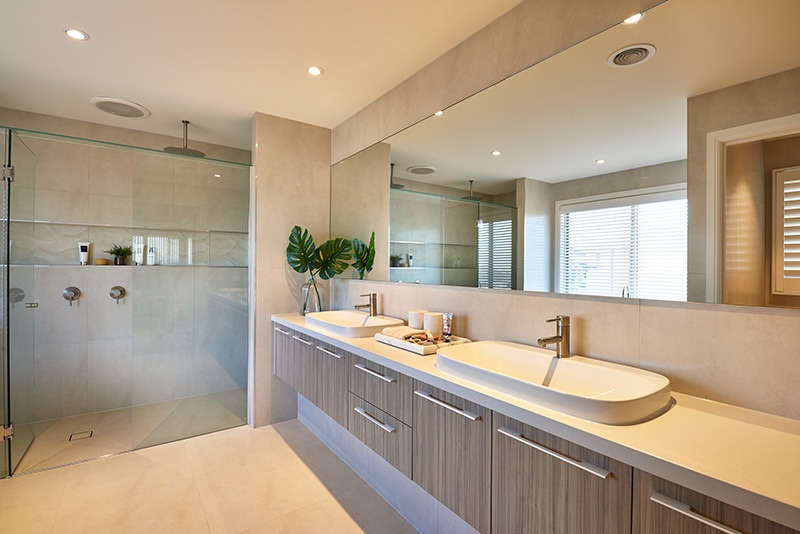 Image from our Bolton design – on display at Aurora Estate in Wollert
Luxe style
The luxe bathroom should have a definite class and 'wow factor', and nothing says class like marble. If your budget allows for it, try a full height feature wall for maximum impact. Here are some other exciting tips for you to try:
Consider upgrading your cabinetry. Finger-pull cabinetry helps create a seamless look without the distraction of visible handles on the joinery
Splash out! Nothing says luxury like a gorgeous freestanding soaker tub
Try incorporating a cluster of pendants over the bath tub just like we have here in our Chevron 32 ensuite. Ensure you stagger them at different heights to create visual interest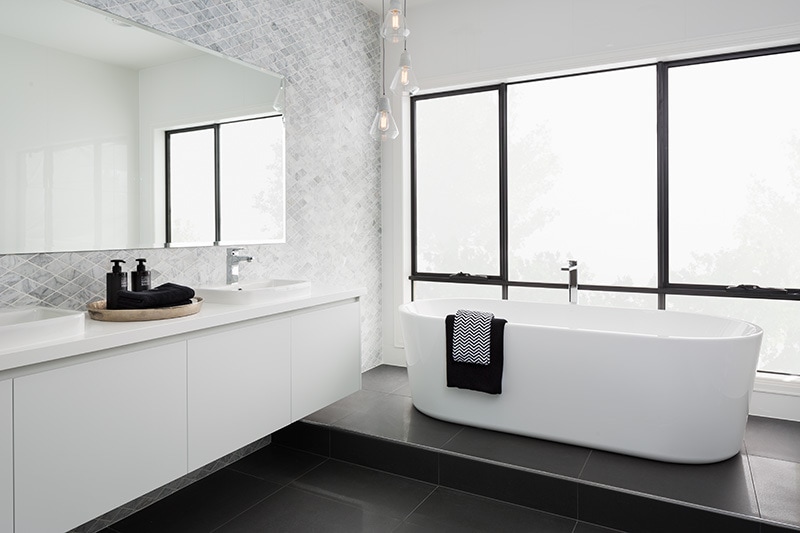 Image from our Chevron design – on display at Highgrove Estate in Clyde North
Coastal Style
Coastal inspired bathrooms should evoke a sense of relaxation. Get the look with these three easy decoration and styling tips:
Keep tile and benchtop choices light and bright, and contrast with a light to mid-tone timber cabinet
Don't be afraid of artwork. Similar to a mirror, artwork, particularly landscape photography, can create a sense of space by acting as a sort of faux window. Consider placement and keep the artwork high enough above the bathtub to avoid splashes, as shown in our Aspendale 26 bathroom below
Add some coastal textures to your vanity by arranging shells, driftwood and seaglass. Use a tray to anchor your objects and have fun with expressing yourself!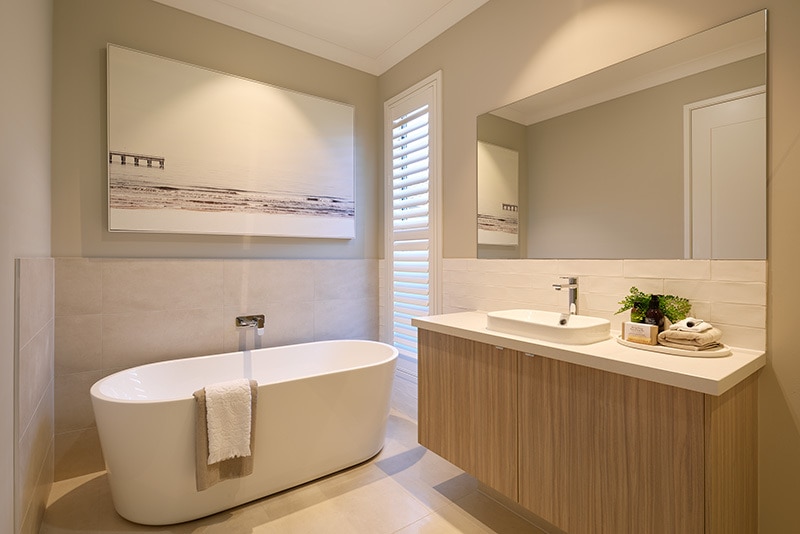 Image from our Aspendale design – on display at Atherstone Estate in Melton South
Industrial Style
Industrial interiors mainly focus on combining raw and rustic finishes with the clean and streamlined. It takes its cue from the hardworking industry of fabrication. It is easy to overdo an industrial inspired interior, however, if you take a few key elements, you will create a look that is authentic yet subtly effective.
Focus on flooring: Choose a concrete-look tile to create a practical yet raw aesthetic
Incorporate timbers: Generally mid to dark timbers work best. They also help visually soften a concrete-look surface
Consider adding black elements. This can be as simple as a black photo frame or, if you are feeling extra bold, why not select black tapware or shower frames?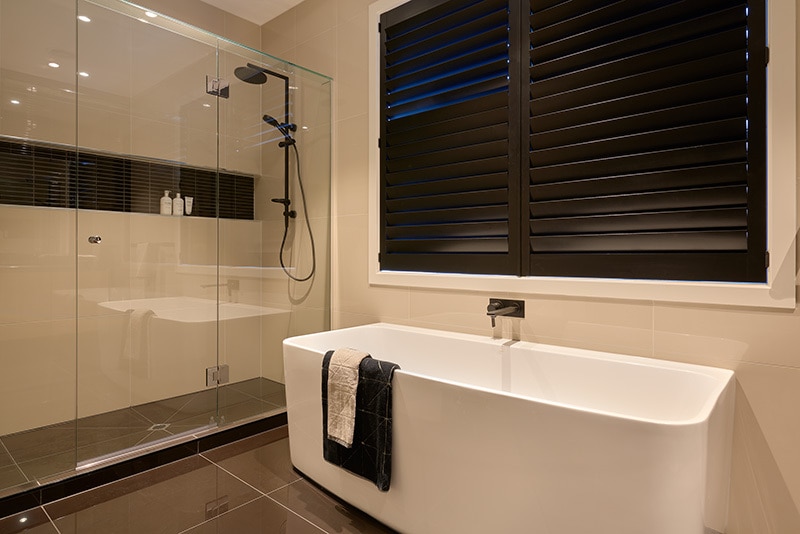 Image from our Daintree design – on display at Aurora Estate in Wollert
Stay tuned to our blog and follow our social media to view more style tips from our Interior Design team.