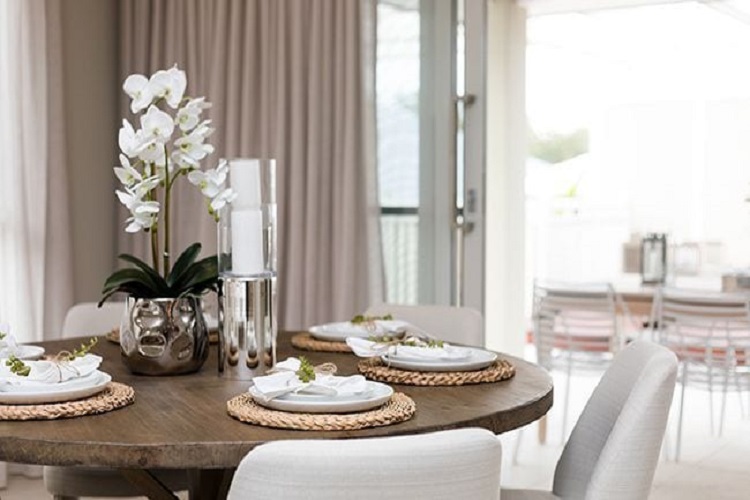 Five Steps to Spring Interior Style
Spring is the time of renewal. So what better time than now to refresh your interiors?
This season we will see a shift from conventional floral patterns and interiors oversaturated with indoor plants to nature introduced more subtly, through the use of earthy colours, sumptuous tactile textures and organic shapes. Here are our top five tips to create a spring interior for your new luxury home that is a cut above the rest:
1. Curved furniture
Spring is all about getting in touch with the outdoors. And what better way than to take inspiration from the organic shapes found in nature. Curved furniture helps soften the often harsh angles of interiors. If you can't afford a furniture update, look at introducing curved elements through cushions, rugs, mirrors and artwork.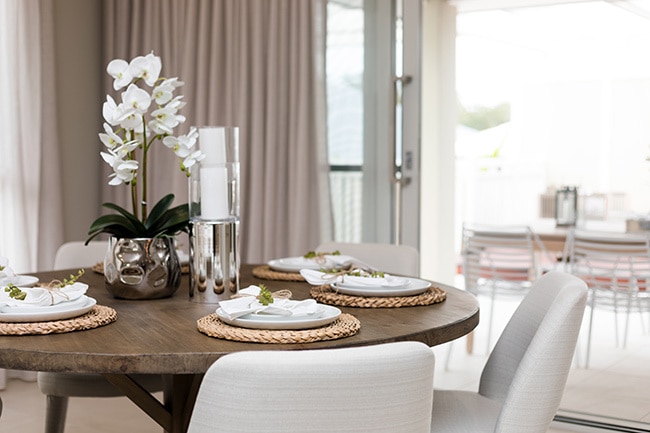 Image from our Oceania design – on display at Flagstone Estate in Jimboomba
2. Think terrazzo
Terrazzo is another trend that is heating up, over the past year or two, through a revival that is fresh but still fun and playful. Terrazzo in white, grey and black shades pair beautifully with natural timbers. However, if you are not bold enough to commit to this material in your hard finishes, then definitely try incorporating it through your homewares. Most major department stores currently have beautiful ranges of home décor in this style – from chopping boards to linen to plant holders, the options are endless! Just make sure to pair with other solid colours or glass to avoid going overboard! Seen recently on The Block's Master Ensuite episode from Courtney & Hans.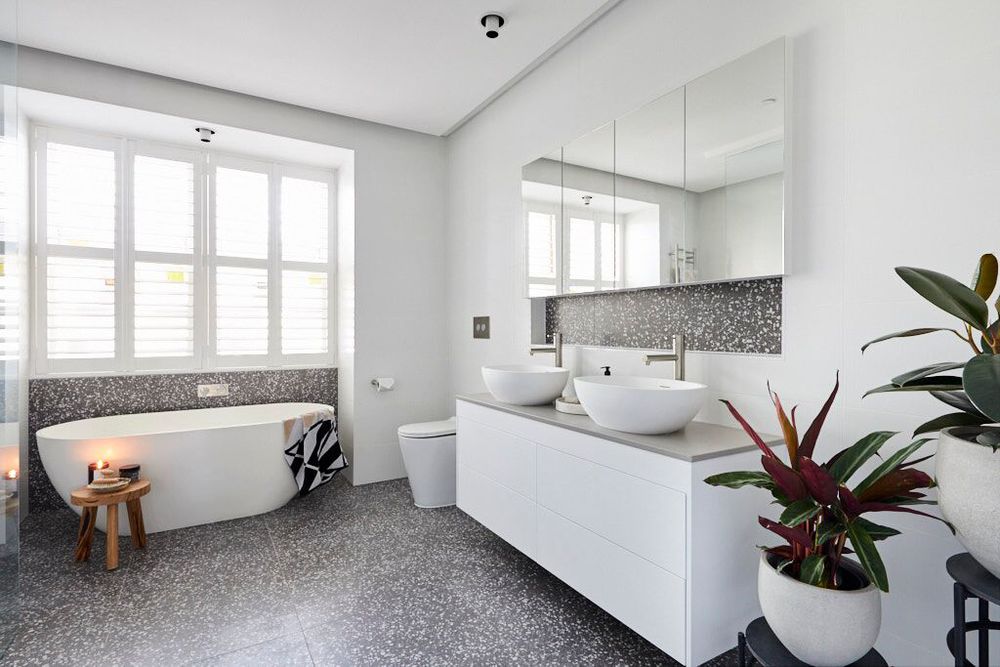 3. Timber on timber
Usually seen as a no-no by interior designers, this is definitely a trend that is gaining momentum. The key with this trend is to match timber in the same tones to ensure a harmonious effect - Avoid mixing warm with cool. And take care not to overdo it. Nominate one component of cabinetry such as a rear island bench and run with that.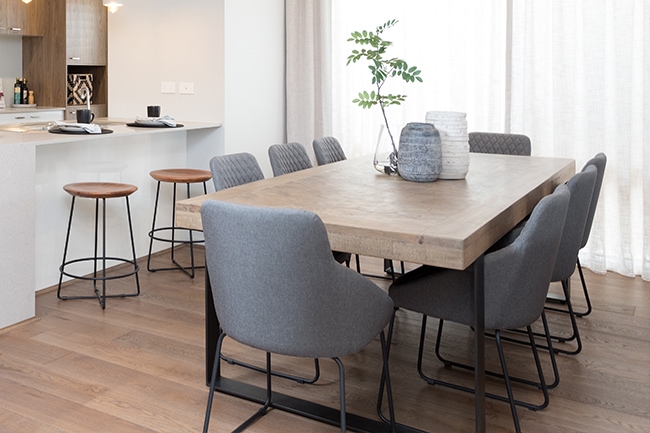 Image from our Daintree design – on display at Flagstone Estate in Jimboomba
4. Wabi-sabi
Wabi-sabi is a Japanese aesthetic that is focused on the beauty in imperfection. According to lead international colour forecast experts, Wabi-sabi s set to become the new Hugge. So why not be a trendsetter and get on board with this mantra? We have seen this coming through with handcrafted-look tiles for quite some time, but the options to incorporate this style into your interior are only limited to your imagination. With such a focus on sustainability these days, what a brilliant way to embrace the tired, old or broken and make it beautiful again.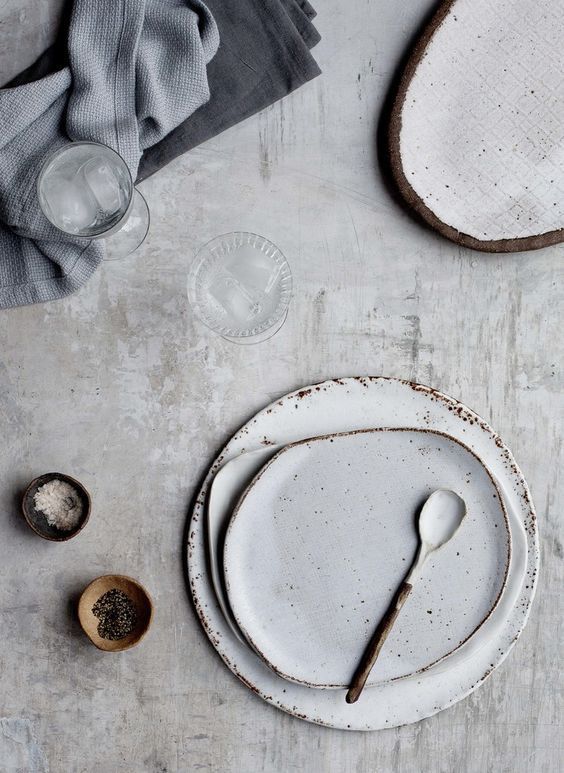 5. Greenery – but not as you know it!
Rather than oversaturating your space with plants, think soothing colours that bring the calmness of the outdoors. Colours that are set to be huge this season are sage, olive green and mint. You'll notice these colours are already prominent in fashion and are slowly leaving their influence on our interiors. This approach to spring decorating will leave your house feeling authentic as well as inviting.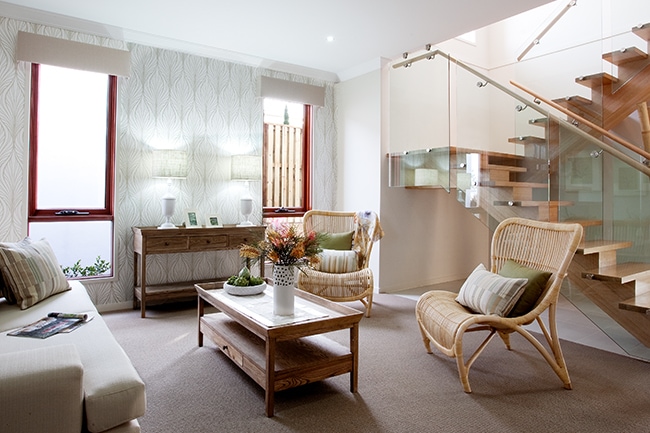 Why not jump onto Orbit's Pinterest and start creating your very own mood boards for Spring.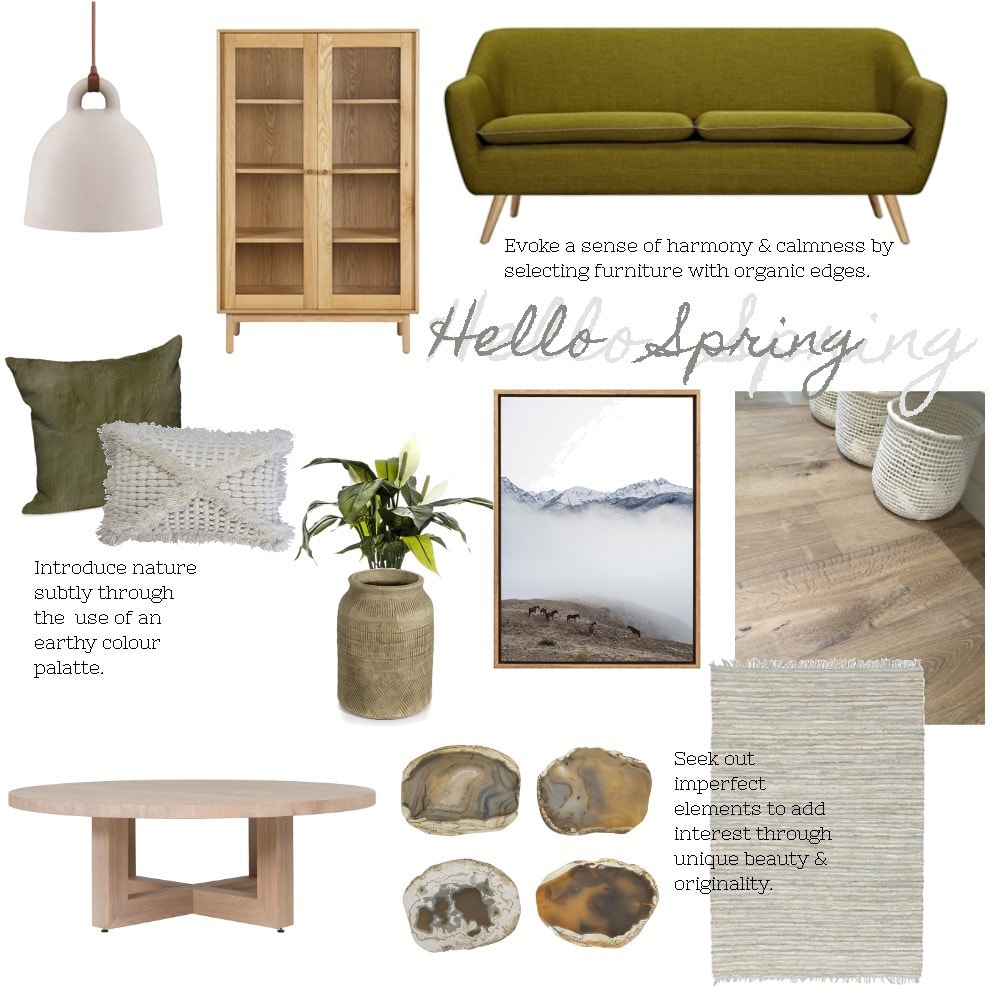 Mood board by our Interior Designer - Priscilla De Luca
Stay tuned to our blog and follow our social media to view more style tips from our Interior Design team.