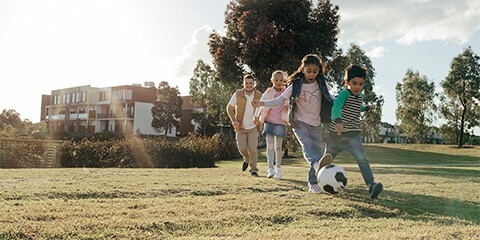 Nov 21
by Monique Millson
New Display now open. Highlands, Craigieburn: Life at Highlands, Your place to have it all now.
Highlands, Craigieburn: Life at Highlands, Your place to have it all now.
Spring just got a whole lot more exciting with the launch of our display homes in the widely-popular, Highlands Estate.
Located 32kms north of Melbourne's CBD and 10kms to Melbourne Airport, Craigieburn's Highland estate is an award-winning master planned community with a $48.5 million aquatic and leisure centre, major shopping centres and established local schools.
The two homes on display are:
Sorrento 415
The Sorrento 415 showcases the standout Provincial Facade with a Modern take on the Hamptons interior design aesthetic complete with ILVE appliances.
Built to suit a 14m by 28m lot, the Sorrento 415 consists of an open-concept dining and family area which leads seamlessly into the grand and spacious kitchen fit with a walk-in pantry. The perfect home design for families who love to wine and dine, the two additional living areas as well as a well-appointed alfresco allows you to maximise your hosting capabilities.
Upstairs, four bedrooms – all complete with individual walk in wardrobes, leaves each and every member of the family spoilt with space.
With a luxurious walk in wardrobe, stunning ensuite and superb high-end touches throughout, the grand master suite offers parent's their own private oasis, to escape the hustle and bustle of everyday life.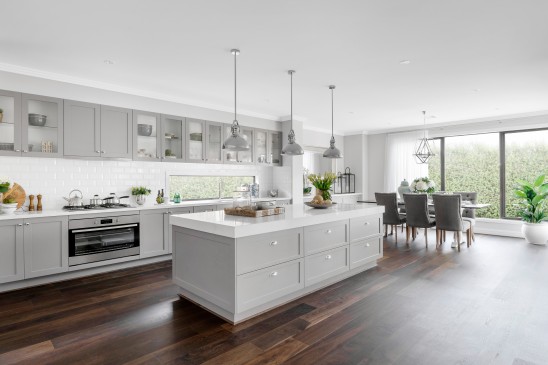 Hamptons has to be one of the most enduring schemes when it comes to interiors. With its relaxed, yet timeless aesthetic what's not to love? Typically, the base palette is white and grey, however this display home we have showcased a new modern style of Hamptons using dark timber throughout. Subtle pops of blue are incorporated through tasteful textiles and décor. Profiled cabinet doors, skirtings and architraves, and feature pendant lights are all elements that creating an authentic Hamptons interior.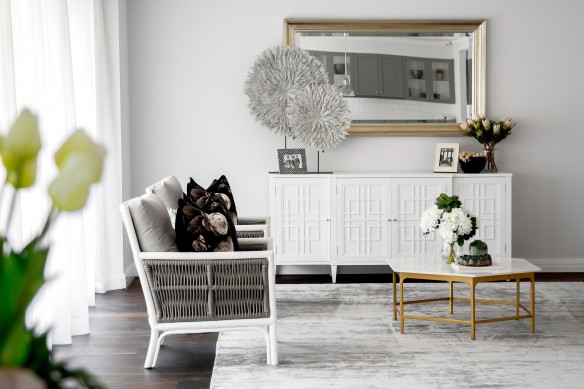 Did you know you can personalise the Sorrento 415 floor plan to suit your new home requirements? Click here to view the floor plan options.
Chevron 302
The Chevron 302, features the widely-popular Southampton Facade with the Villa Resort interior design. This style is the new tropical adaptation of Coastal which is the relaxed version of the popular Plantation style. Crisp Whites, Bold Greens and Rattan are the key elements to this style. Moving away from the soft pastels of the Coastal style. The Villa Resort syle is refreshing, relaxing, yet modern.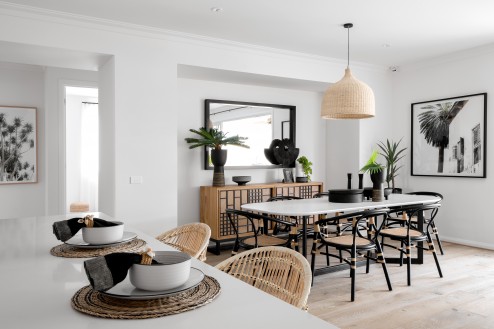 Expansive in its size, style and sophistication, the Chevron 302 offers four generously-sized bedrooms that are complemented by three bathrooms as well as powder room. With dual living areas and a lavish open-living family, meals and kitchen area, details such as a butler's pantry and ample storage lift this home above others. No doubt, the impeccable home design on display will highlight the abundance of space available for all family members to find privacy, rest and relax in.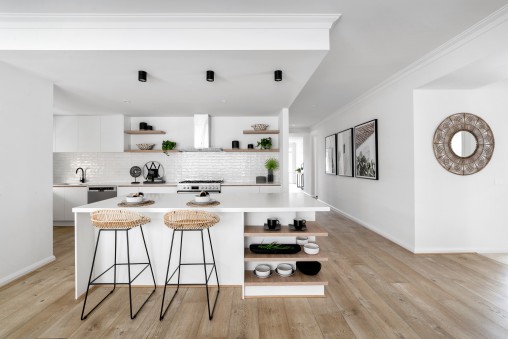 You can use our design options to change the Chevron 302 floor plan to suit your new home needs. Click here to view the floor plan options.
For opening hours, sales contact details and directions view the full details.