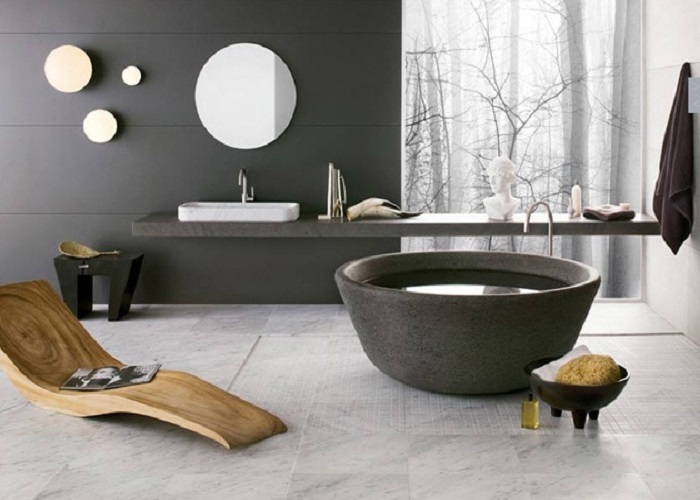 Design Trends: Contemporary Bathrooms!
There is a growing trend in home design and decorating television shows such as The Block, House Rules and Better Homes & Gardens. We have watched the way interior design trends have changed and evolved through these television shows and we have developed an understanding and become involved in the changing design trends we have seen on these shows, both as fans and as the home owners doing a little "DIY".
Kitchen designs have previously been the front runner for innovative design styles with the use of gourmet kitchen appliances, contemporary kitchen tapware and luxurious finishes to floors, walls and benchtops. These popular television shows have proved that there has been a dominate shift in our attention which an increased effort in Bathroom and Ensuite design and decoration. Here are some inspiring Bathroom and Ensuite designs.
Kyal & Kara (also know as) "The Super K's" from the hit TV show "The Block - Fans V Favs" set a new standard in Bathroom deisgns when they presented their beautiful and contempoary Bathroom and Ensuite. The focal pint of these two elegant rooms is the oval shap bathtub – although the theme was carried through from Bathroom to Ensuite, Kyal and Kara have made an important difference by making the Bath Tubs a different colour.

This beautiful contemporary style bathroom design by Italian design teamNeutra is inspiring, as we are given a stylish perspective in modern bathroom designs.
A similar trend can be seen between the cleverly designed Bathroom and Ensuite by Kyal and Kara and the elegant designed Bathroom by Neutra.
The Bathtub has again been placed as a focal point in the centre of this Bathroom – a uniquely round bathtub in a dark grey stone material, is unlike the traditional long oval or rectangular bathtub. Adding some subtle wood elements has infused a feeling of warmth and intimacy – appropriate to a bathroom which is now commonly referred to as a retreat.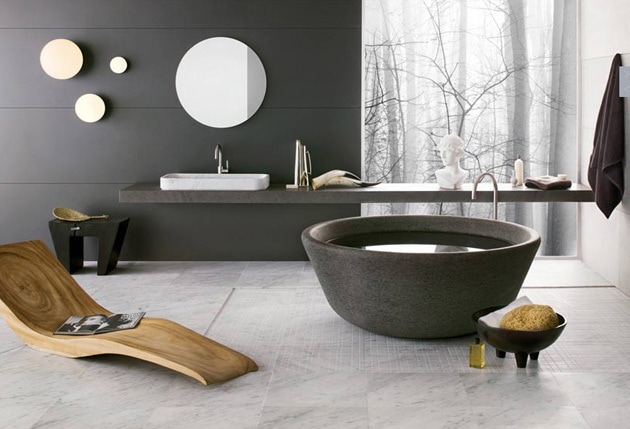 At Orbit Homes our team of highly qualified architects and interior designers are continuously working on stylish new display homes using the latest design and colour trends. Here we have the new Aspire 44 design from our Luxurious Signature Range – Featuring an indulgent master suite with a huge Ensuite and separate dressing room.
One of the main design focal points can be seen in the Aspire 44 Ensuite Bathroom – The use of warm grey colours and placing the bathtub in the centre of the room as a focal point. We also see subtle wood elements again creating a warm and intimate mood in the Ensuite Bathroom.