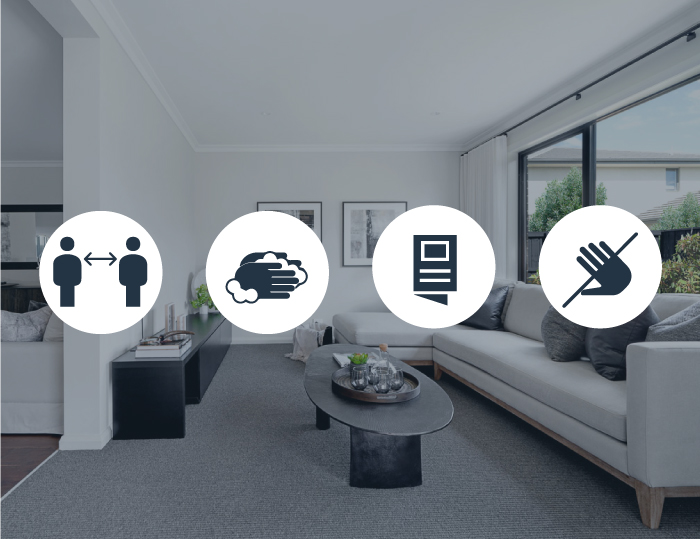 Welcome back Melbourne! What to expect when visiting our displays
Orbit's display homes have reopened across Victoria and we are excited to be able to continue helping you discover and build your dream home again. Although we are trading as normal, COVID-19 has changed the way we are doing a few things for now and into the foreseeable future. We are taking all necessary steps to ensure our display homes are safe and hygienic for our customers, visitors and staff. Below is a guide on what to expect when you call in to explore one of our beautiful display homes.
1. Check our website
Our website is a great resource you can access before you visit our displays. Be sure to check the display locations and opening hours here for Victoria. All of our home designs are detailed online and you can also view photo galleries and video tours. Our search function is a great way to shortlist the designs you like that meet your budget, size and design requirements.
2. Read and understand the COVID-19 signs
When you arrive at our displays, be sure to take a moment to read any signage relating to COVID-19. These signs are being updated frequently to ensure we can make your visit as safe, simple and comfortable as possible. Be sure to ask one of our friendly staff if you are unsure about or need further clarification on the information. We are happy to assist you.
3. Bring water and use the bathroom
As we are unable to allow public use of our facilities or serve any beverages including water, be sure to bring your own. And although this hasn't changed - It is always a good idea to go to the bathroom before entering our displays as the toilet facilities in our homes are for display purposes only and are not to be used.
4. Entry
As per Government guidelines, all display home visitors must wear a face mask and register their details with one of our friendly team members before entry. The details we must record include your full name, email address and phone number. There records are for the government's contact tracing purposes only however, please note that this information will be provided to government authorities if requested.
5. No contact and social distancing
To help protect staff and visitors, clear safety screens have been installed to maintain social distancing. Our Sales Consultants are strictly observing the Government's recommended social distancing measures during your visit, so this means there will be no contact (such as shaking hands) upon entry. However, our staff will still greet you, make you feel welcome and provide you with the same friendly and helpful service for which Orbit is known.
6. Sanitise your hands
Hand sanitiser is available for use in all of our display homes and offices. Be sure to sanitise upon entry and exit and try not to touch your eyes, nose or mouth as this will help to stop the spread. You can also be sure that routine cleaning is happening daily and we have hygiene practices in place to make sure special attention is being given to frequently touched surfaces such as tabletops, door handles and light switches.
7. Collect brochures and resources
You will see signs that welcome you to take a copy of any of our brochures, booklets, flyers and resources on display for you. This is a measure we are taking to help to maintain social distancing and reduce person-to-person contact. So please feel free to take a copy if you wish! Many of our publications are also available to view online here.
8. Private appointments are still available
Of course, if you would like a private experience you can still book a private appointment with us. Appointments are available before and after business hours to suit your needs. You can easily make an appointment by phone, email or via our website.
Orbit understands that building during COVID-19 is presenting additional challenges and to ease the stress, we are committed to providing you with the best service and the simplest and safest methods to continue on your journey to your dream home.