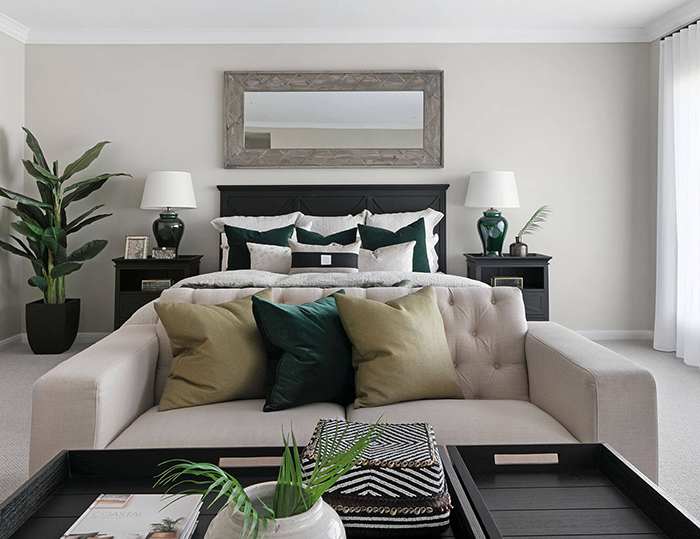 Winter 2020 Styling Trends
As the days are getting shorter and the nights are getting colder, winter is the season of staying indoors. Combined with the current social distancing and COVID-19 restrictions now is the perfect time to focus in on the latest interior styling trends. With a focus on brightness and warmth these trends will help turn your home into a cosy retreat.
Forest Green
During covid-19 we've often felt limited in the activities we can engage in. Many of us haveturned to the great outdoors and used this time to reconnect and recharge with our beautiful, natural surroundings. We are now seeing the influence of nature through the use of bold forest greens in interiors. Green is soothing, restorative and relaxing but also rich and sophisticated making it an ideal choice for Winter. Popular ways to incorporate this trend include bold accent furniture such as dining chairs or ottomans, as well as artwork or painted feature walls.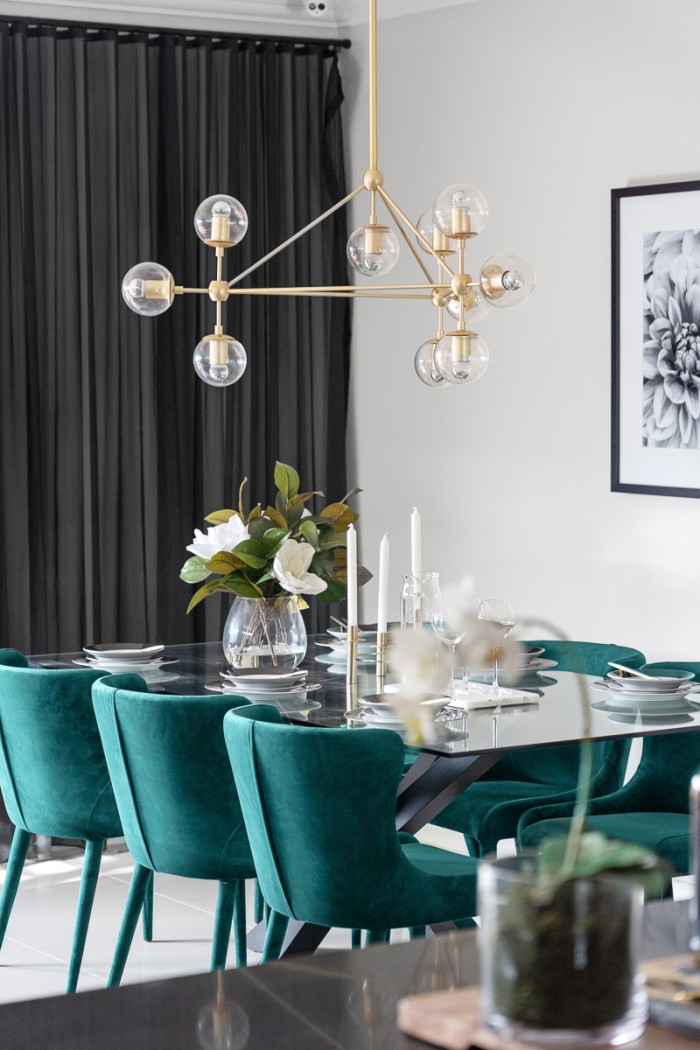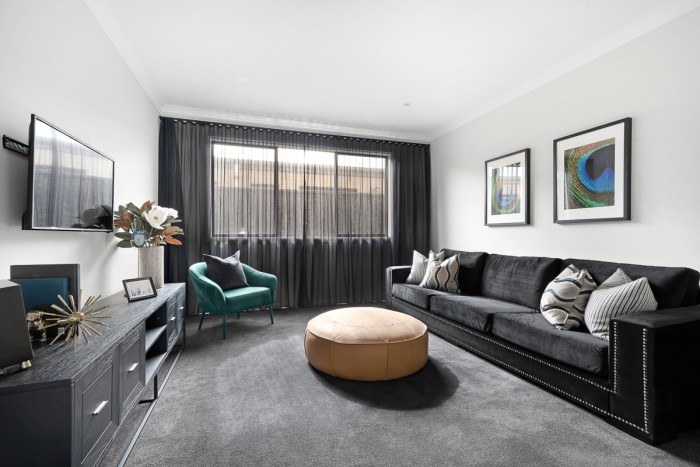 As displayed in our Chevron 29 at Newhaven Estate.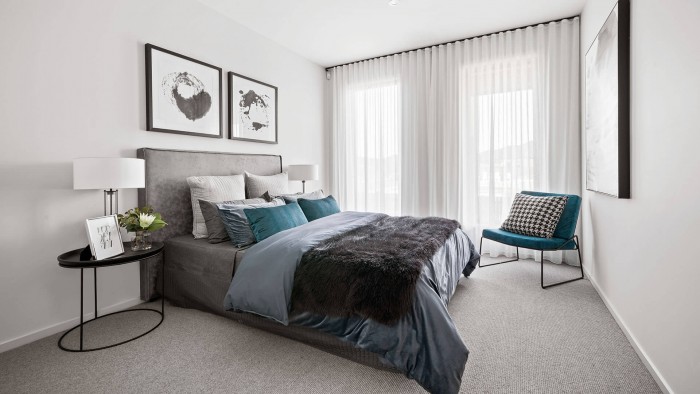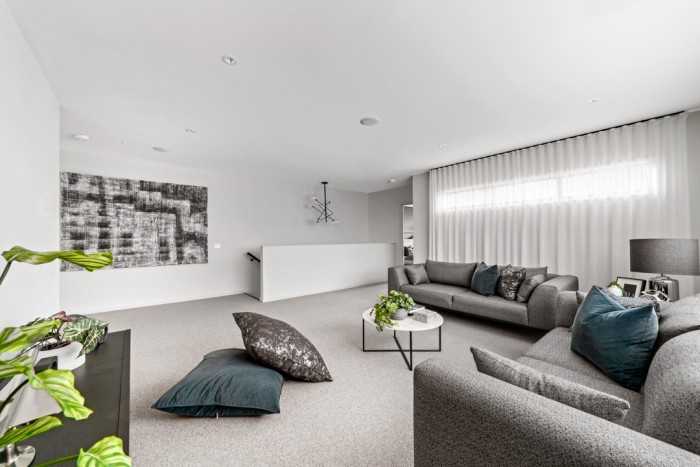 As displayed in our Sorrento 398 at Highlands Estate.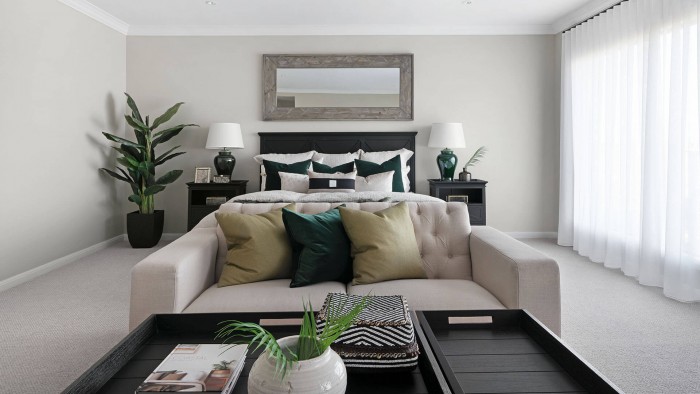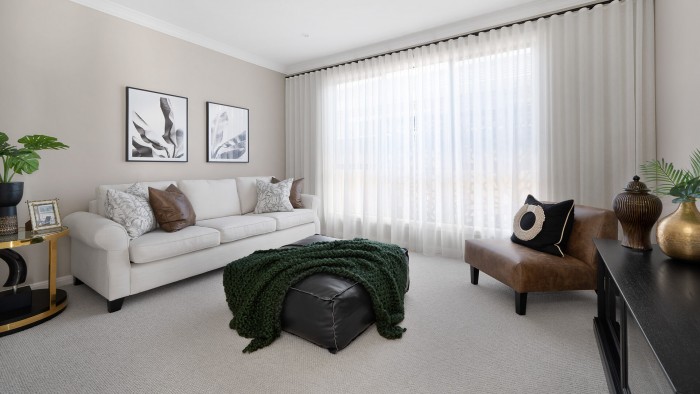 As displayed in our Sorrento 416 at Newgate Estate.
Theatre rooms & Home bars
With our normal social lives currently disrupted there's never been a better time to entertain at home. (Obviously keeping in line with current guidelines) Home theatre rooms or 'media' rooms complete with home bars are extremely popular in Australian homes, if space allows. Even if your
space is smaller, you can get imaginative with bar trolleys to make entertaining extra special. They are a great way to showcase your best glassware and decanters and impress your guests. With styles out there to suit every personability, the only limit is your own imagination.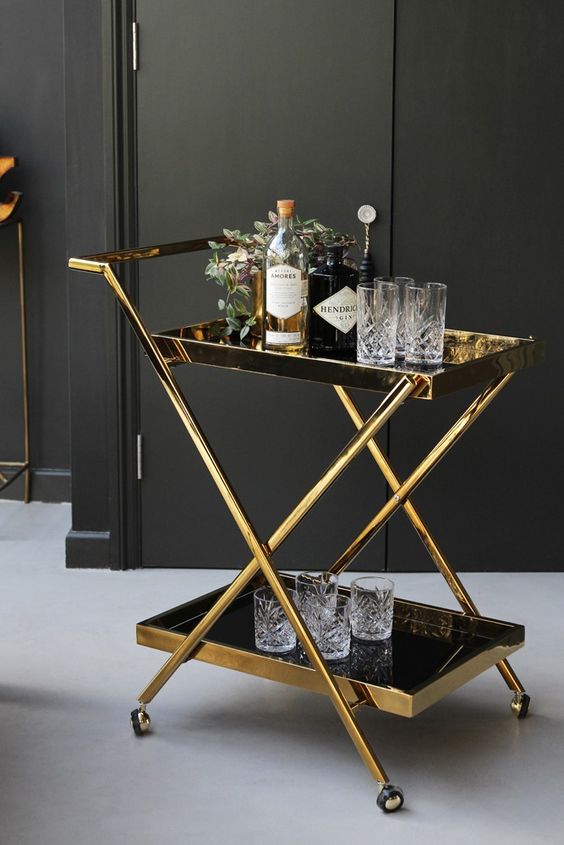 Image via Pinterest.
Rust & Rattan
Two of the hottest trends at the moment are rust and rattan. Rust is a rich, earthy hue and rattan is symonmous with warm weather. It's hard not to picture rattan in a coastal home! Paired together they evoke whimsy and warmth in any space, something we all begin to crave during the cooler
months. Rattan tends to work best in boho, coastal or vintage inspired interiors. To keep it contemporary opt for simple designs or smaller décor pieces to compliment your overall look.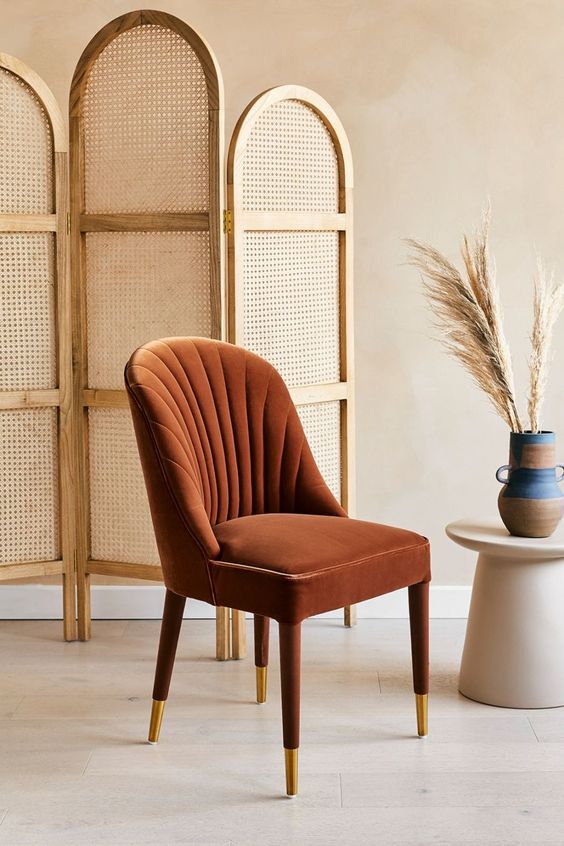 Image via Pinterest.
Mirrors
Dark, dreary Winter days can leave us feeling low on energy and uninspired. Mirrors are a great tool to reflect light and create inviting spaces. Mirrors can be used as an alternative to artwork above fireplaces or entry console tables. You can also create the illusion through the use of metallic or mirrored finishes. Think outside the box and incorporate though décor such as coasters, trays, pictures frames, lamp bases or even vases. You space will be feeling brighter in no time!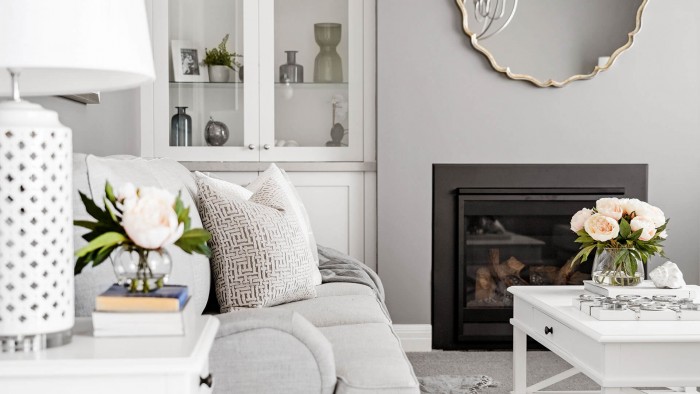 As displayed in our Daintree 28 at Bloomdale estate.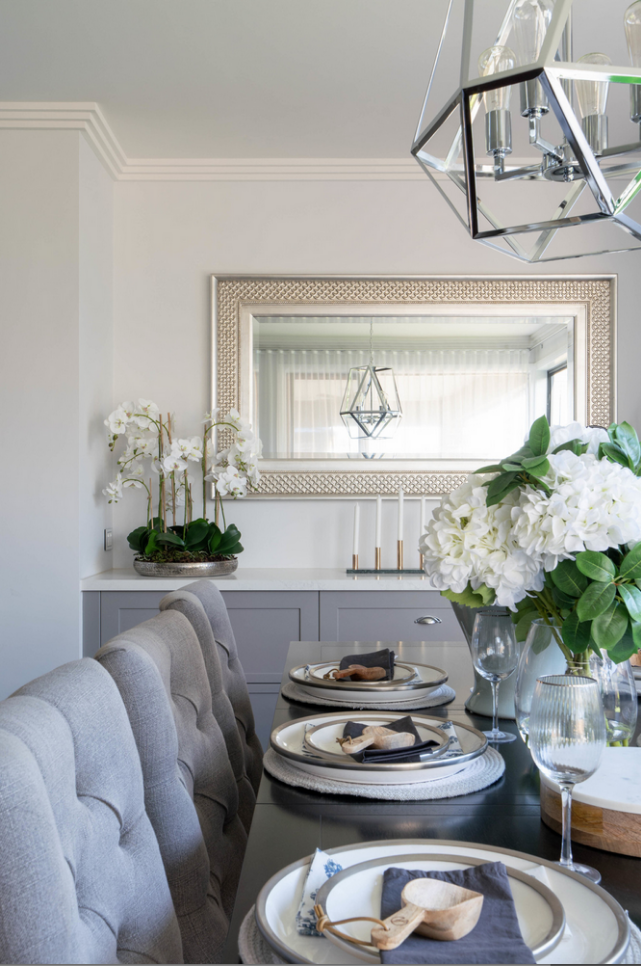 As displayed in our Sorrento 496 at Eliston Estate.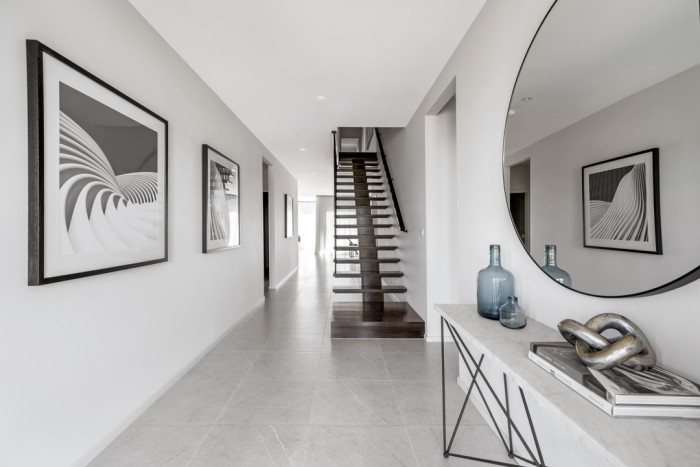 As displayed in our Sorrento 398 at Highlands Estate.
Layering, but not as we know it!
As the weather cools down we instinctively start layering up to keep warm. Out come the heavy coats, scarves and beanies and at home we pull out the extra blankets and cosy cushions. But one thing we don't often consider is the power of layering of textures and materials in a space to create visual warmth. One inexpensive and on trend way to do this is through wall panelling. Wall panelling works best as a feature wall. Think behind a bedroom in replacement of (or in conjunction with) a bedhead, and often with an accent feature. To keep it trendy, think sage or forest green, burnt umber or moody blues! For a contemporary look keep the panelling simple and opt for vertical lines if you wish to create the illusion of height in a space or horizontal lines for the illusion of width.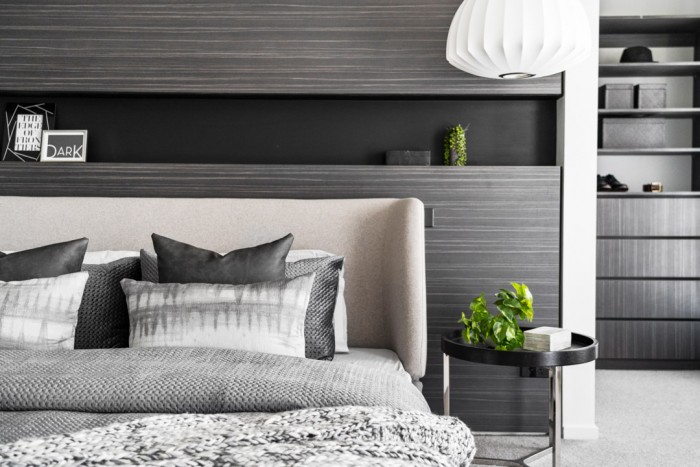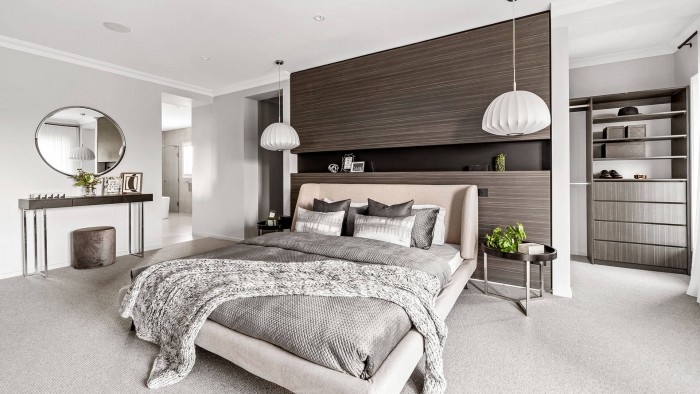 As displayed in our Sorrento 398 at Highlands Estate.
Image via Pinterest.