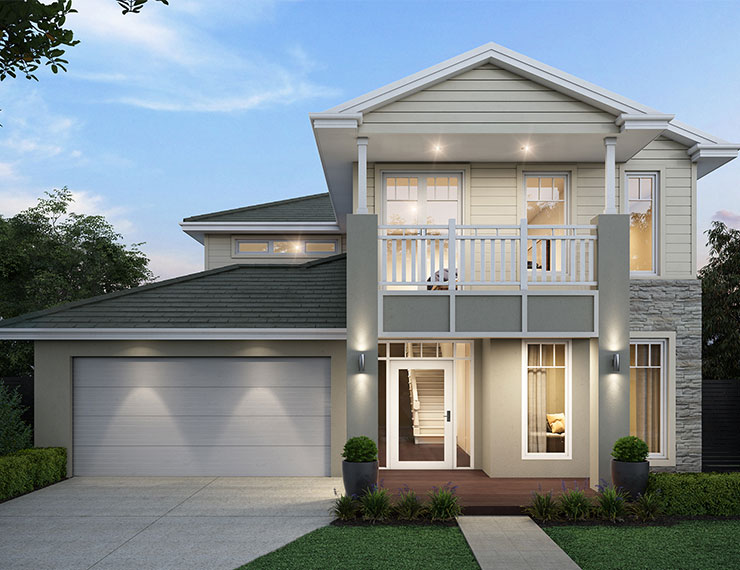 How to choose a facade for your new Orbit Home
When building your new home, there are so many details to get excited about. You can personalise your floor plan, fittings and fixtures, colour schemes, furniture and decor, but one of the most important details of your new home is the facade - it is the first impression your friends, neighbours and family get when they arrive and it is what you will be greeted with each time you come home.
Orbit Homes has maintained a 40 years strong partnership with James Hardie Australia and together both design teams have developed a beautiful offering of facades - all with different cladding materials, features and styles so that when it comes to choosing the right facade, your experience is enjoyable and effortless. There are several elements to consider when making your decision, such as facade materials, your home's interior style and colour scheme plus exterior lighting and landscaping. All of these factors play a notable part in enhancing the beautiful design of your facade and ensuring there is a natural 'flow' moving between your indoor and outdoor spaces.
By keeping a finger on the pulse when it comes to emerging design and style trends, Orbit's facade options are modern Australian interpretations of popular architectural home styles from around the world, each expertly customised to suit the current lifestyle. So what are our most popular facade designs? What do they look like and how are they different from each other?
Modern
The Modern Australian look is influenced by global design leaders says architect and James Hardie ambassador, Joe Snell. "Generally speaking, the modern trend features clean lines, confident shapes and minimal ornamentation. They are all rooted in the works of visionaries such as Mies Van Der Rohe, Frank Lloyd Wright and Alvar Aalto and out of institutions like Bauhaus."
This design style is seen in Orbit's single storey Capri facade (above) as well as the double storey Contemporary and Modern Facades (below). All of these designs feature large, plate glass panels on windows and doors, fine lines made with either metal or concrete and in the case of the double storey homes, beautiful glass balconies, adding a minimalist feel. The designs are decorated with natural coloured wood and brick/stones and feature beautiful rectangular and geometric shapes in a stylish and creative way.
Hamptons
The modern Australian interpretation of the Hamptons look is centred on warm, coastal colour palettes and the relaxed Aussie beach lifestyle. A key feature in facades of this style is the weatherboard look - much loved in Australia. As Award winning designer, Principle at Indah Island and James Hardie ambassador Natalee Bowen says, "for the exterior of a Hamptons-style property, the deep shadow lines of weatherboard look cladding, like Linea Weatherboard take the centre stage. Relatively low maintenance, the cladding also prevails over timber in Australia's harsh climate. It resists flaking, warping or swelling, is resistant to fire and damage from termites and moisture."
This design style is seen in Orbit's single storey Southampton facade as well as the double storey Bridgehampton facades (options with or without a balcony). These facades pair well with classic home interiors and add a timeless elegance with clean, horizontal shadow lines, thick edge treatments on windows and light, warm colour tones combined with soft greys.
Coastal
Australia's modern Coastal style mixes a hint of Hamptons charm with elegant seaside tranquility. By embracing the natural beauty of the coastline and adapting it with organic textures, soothing colour palettes and ocean-inspired horizontal lines, a facade of this type brings a calming, natural mood to your home. The concept behind this style is to blur the lines between indoors and outdoors by embracing as much of nature as possible.
This design style is employed in Orbit's Urban Coastal double storey facade (options both with and without a balcony), show below and in the single storey Coastal and Vienna facades shown above. You will notice that creams and beiges are used as accent tones while more muddy, warm colours are mixed in to create the calming coastal look. This is combined with natural textured elements such as timber and sand coloured stones to evoke a beach element - rocks, sand, shells etc. These textural elements are also layered to add more intrigue and interest and to add a cool, modern vibe.
Provincial
This grand look is ideal for double storey homes and can be seen in Orbit's Provincial facades (options both with and without a balcony). The colour scheme of these facades matches the landscape - natural beige accents mixed with warm browns and greys. The windows have small, tidy panes and the entry door is large and grand. The rustic wooden texture is also a focal point on the garage and front door - just as exposed wooden beams were a main design staple in the original French country homes of this design style.
If you love the Provincial style and want to see it in use in a single storey facade, Orbit's hybrid Modern-meets-Provincial Seville facade is worth a mention. This design encorporates balanced, symmetrical elements with clean lines and confident shapes. The tall windows are a perfect mix of these two styles and add a pleasing sense of balance.
Where to view these facades
Modern
Hamptons
Coastal
Provincial
All of our displays in Queensland are open to the public. Due to COVID-19, our display locations across Victoria remain open by private appointment.