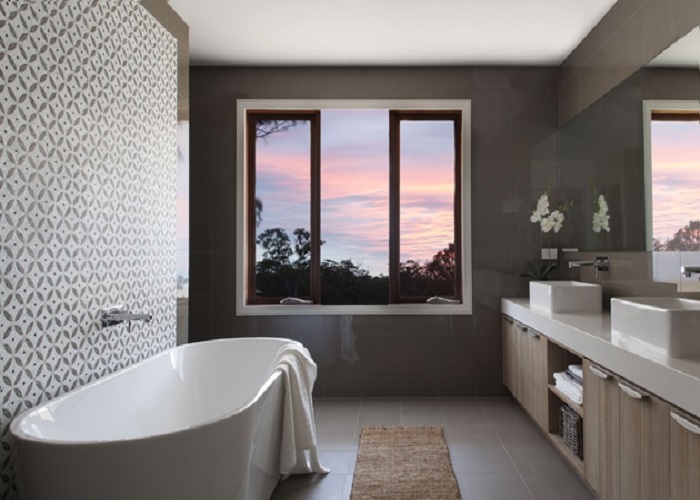 Design Trend – Wall paper and feature walls
As one of Melbourne and Brisbane's leading home builders, Orbit Homes are continuously involved in the latest home design and decorating trends. The "Feature wall" trend is still a strong element in the majority of collections that we see coming in from a large number of international suppliers.
The slightly textured wallpaper in the Metropol 30 gives this busy lounge room a rich feel, keeping space open and free flowing. Transform any room in the house with wallpaper in modern geometrics, feminine florals, even ice cream sandwiches. We have also seen feature walls in bathrooms, especially the ensuite with feature walls from tiling creating a luxurious and sexy feel to one of the un-sexiest rooms in the home. From our research a few tips on creating your feature walls with wallpaper. You don't have to live in an old house for wallpapers to work, but, for best effect, choose a design that suits the scale of your home. For example, the small floral typical of the 1930s can look lost in a high-ceilinged room, while heavily patterned Victorian prints can overwhelm a small or low-ceilinged space.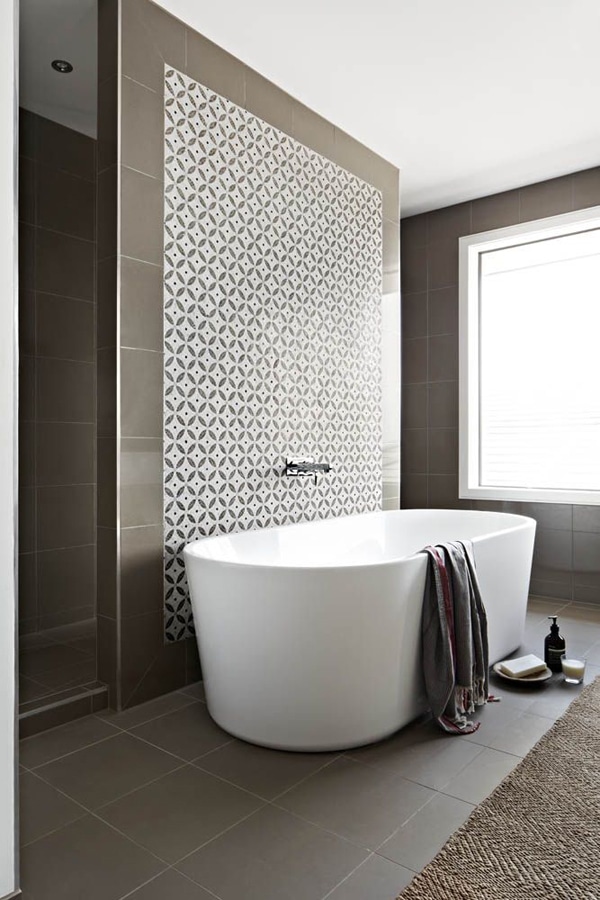 The Aspire 44 uses titling to create a feature to present the bath in the ensuite To make a beautiful wall covering the focus of the room, pick out key colours from the design and repeat them in plain fabrics and painted woodwork. To mix in other prints without outshining the wallpaper, stick to a limited colour palette. Alternatively, choose another print from the same collection – they're grouped to co-ordinate, so the hard work's been done for you. If you like an eclectic look, you can team an archive wallpaper with modern furniture, but echo the design – for example, a pattern with gentle curves will look better with furniture in curved shapes.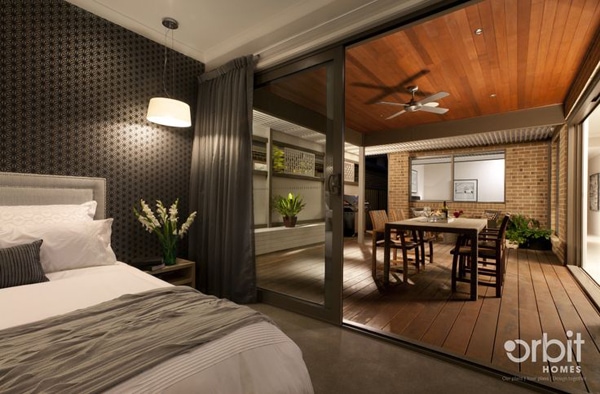 The Nubury 26 uses a deep and geometric design to create romance and a sultry feel in the Master suite. Get creative and try a new spin on a feature wall, the options are limitless. Visit our displays to pick up any design ideas. If you want to see more design trends you can follow Orbit Homes on Pinterest – and check out our mood boards