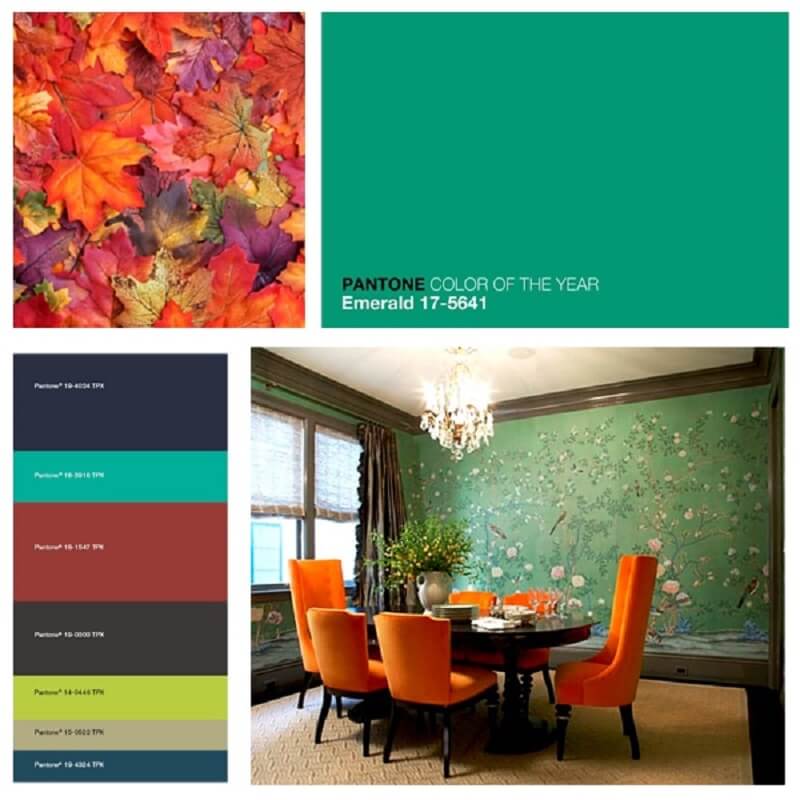 Colour Trends – Autumn 2013
Design and colour trends are constantly shifting with the seasons and as we approach Autumn our design trends change from that fresh feeling of spring and summer to a cold and cosy style. This transformation in design can leave a dramatic impression much like the shift from warmer weather the cooler weather does in Melbourne.
The beginning of the Autumn trends are commonly based on the theme of autum colours; warm browns, and burnt reds and oranges as well as the deep blues and purples. This Autumn however Panton voted colour of the year – Emarld 17-5641, a deep jade green which works beautifully with these colours inspired by the seasons natural elements.
An inspirational piece we found was – Massucco Warner Miller's dining room – which shows a perfect combinate of traditional and modern elements. The dark timber oval table and crystal chandelier represent the traditional elements although the chandelier is quite modern and the bird green wallpaper and srtricking orange coloured upholstered chairs represent the modern elements however gain the legs of the chairs pose a traditional design..
Although the vibrant orange colour of the dinning room chairs is the focal point of the room the floral and bird green wallpaper inspired from the Pantons Emerald Green is a perfect contracts.