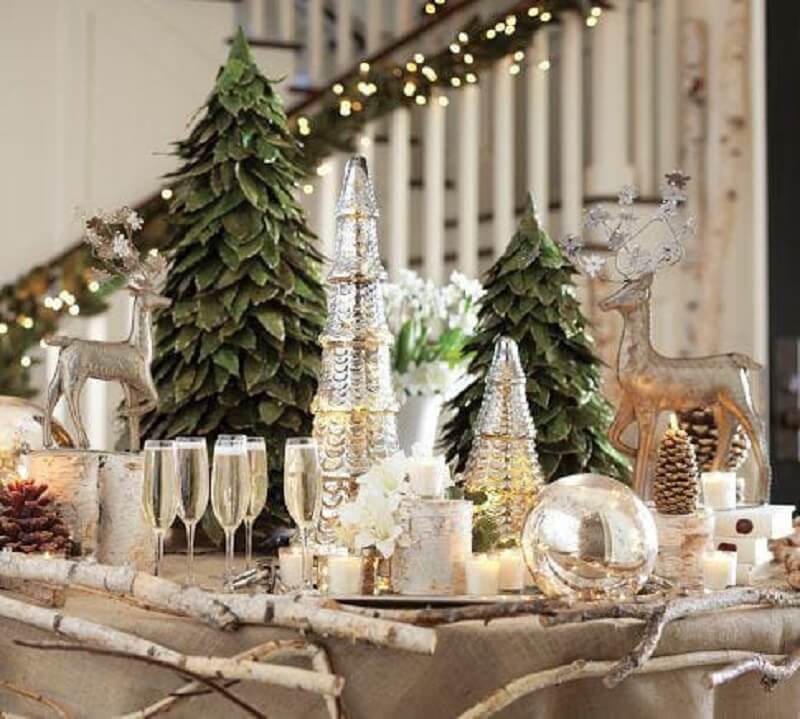 Christmas 2012 Design & Decorating Tips:
We all know what a stressful time of year Christmas can be... What colour theme should I choose? Do I go real tree or fake tree? What's a quick and easy way to decorate my home? Well stress no more, we have got you covered the Christmas, with inside tips on in trend colour themes, to table setting, easy do it yourself decorating and more...
Let's start with picking a colour theme... before you even start thinking about decorating your house, it's a good idea to pick two or three colours as your colour scheme – and stick to them. Whether you're decorating the tree, the table or the house in general, if you stick to a few carefully chosen colours the overall effect will be much more festive – and classy. This season there are two trending colour themes – "all white" or "all gold"... but personally I say why not combine the two!!
Tip1: Pick a colour theme:
Ethereal White Christmas tree: Create a clean Christmas look with a neutral palette for tree and presents. All-white decorations give this pre-lit tree a dreamy quality, bringing a snowy winter wonderland indoors. White-wrapped presents are trimmed with metallic gold and silver ribbon for sparkle. A gilt-framed mirror, candelabra and the glossy dark floor convey luxury and refinement.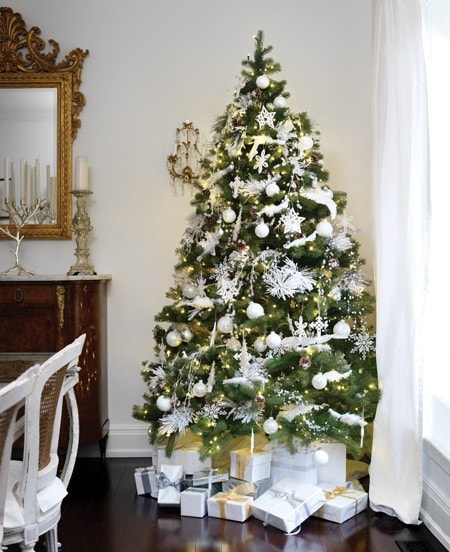 OR
Glimmering Gold Christmas tree: Bling in the holidays with a tree that's more glamorous than traditional green or frosted white varieties. This tree strikes a glamorous note that needs little embellishment, so skip the classic trimmings and simply string it with twinkling white lights. The look is simple to achieve and drop-dead chic.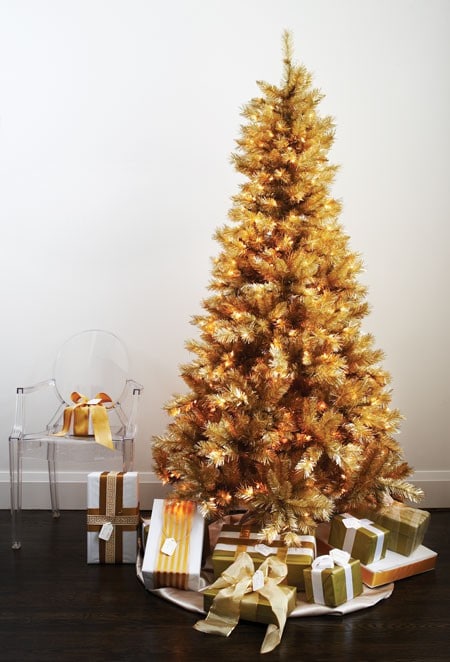 Now that we have the perfect colour theme it is time to start decorating the rest of your home. Most people will make the focal point of their decorating the Christmas tree so let's get started on the finishing touches; table settings and other minor decorations in the home.
Top Tip: Remember sometimes less is more, so keep it simple and decorate according to the size of your home.
Tip 2: Lavish table settings:
Keeping in theme with the white and gold trends this Christmas set a table that shimmers with gold accents and crisp white dishes: Silver dollars in speckled gold-leaf vessels are a simply sophisticated way to set a holiday table. White china and milky, translucent wine glasses keep the table looking natural and glamorous. Chunky glass candlesticks look like delicate ice carvings.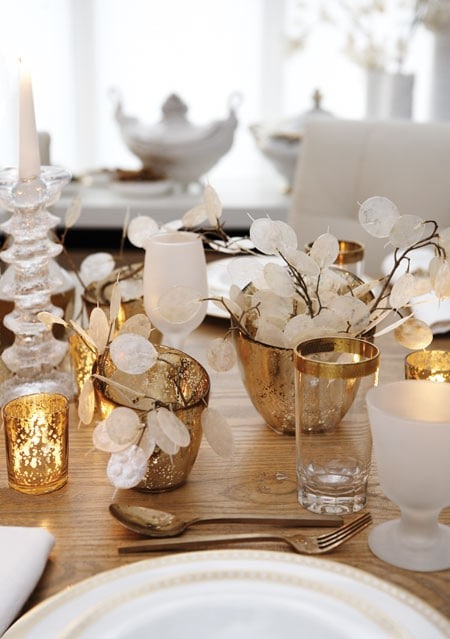 OR
For those who have trouble of stepping outside the traditional colour theme, the perfect solution is to incorporate some green into your table setting. The colour works perfectly the white and gold theme and will also tie in with a green Christmas tree. The traditional piece and table decor reinforce the Christmas holiday traditions.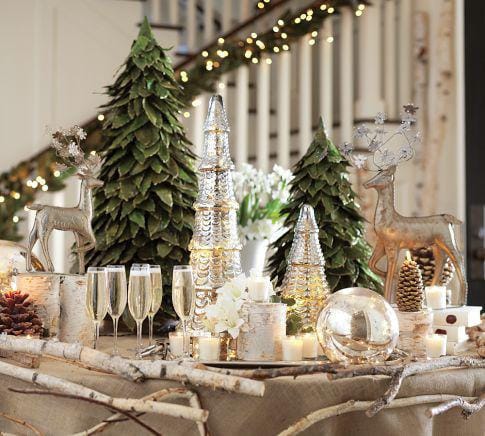 Let's finish the home with simple decorating ides... Here are some handy decorating tips to help create those finishing touches.
Tip 3: Simple Decorating tips:
Glass vases filled with Christmas balls will add a simple touch to your living room: Combine a mixture of textured, frosted and shiny Christmas ornaments in the same hue as your colour theme for maximum impact. This is a cheap and easy way to add simple but effective decorating to your home.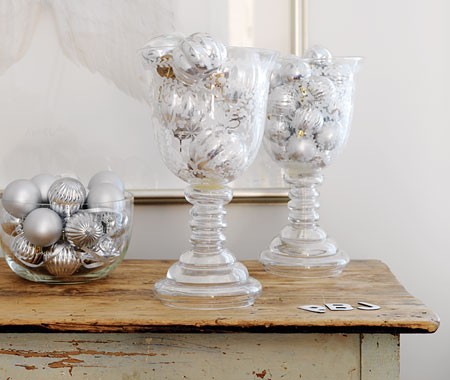 DIY Christmas Card Board: Strike a festive note with a vintage style, do-it-yourself display board in your front hall. An elegant white side table and mercury glass candlesticks underneath create a sparkling tableau. To make a similar board, paint a vintage frame white, fit it with bulletin board and then use spray adhesive to affix pretty wrapping on top of the cork. After the holidays, the board can be used for mail and shopping lists