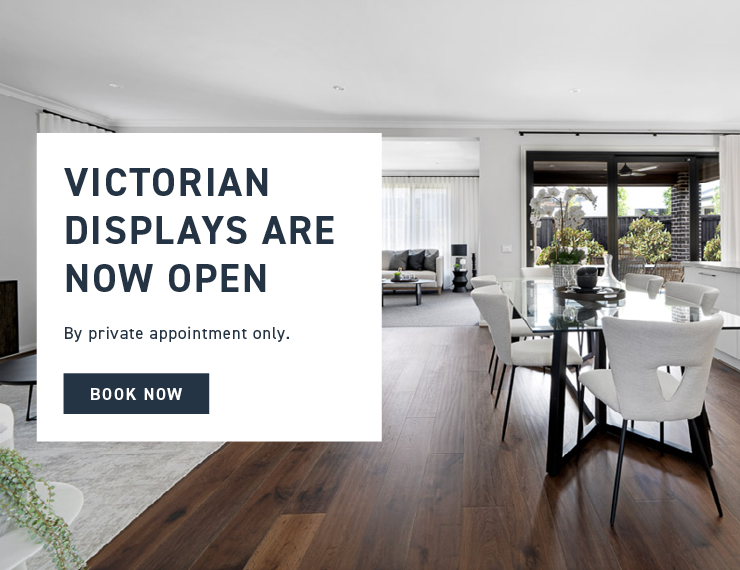 All Orbit displays in Victoria now open by appointment
Sunday the Victoria Government announced the easing of restrictions to second stage across metropolitan Melbourne. This step means that all Orbit display homes in Victoria are open by private appointment and you can view our superb home designs on display.
Although we are pleased to be taking a step towards reopening, there are still a few important regulations to take note of. These arrangements are in place to ensure we can continue to comply with required social distancing and hygiene practices and keep all of our visitors and staff safe.
Display home visits will be limited to 15 minutes and will remain contactless.
All appointment will be limited to one Orbit Sales Consultant and one client. As a client you may bring one additional person to the appointment with you - either someone from the same household or your partner.
As a home buyer, you may return multiple times to view the home.
You can book your appointment online or by calling one of our New Home Sales Consultants. Once your appointment is confirmed, your Sales Consultant will send you the COVID-19 Appointment Confirmation Letter detailing your reason for travel. Be sure to have this letter with you when you attend your appointment as if you pass through a police checkpoint you will need to present it.
You can only leave your home for a maximum of two hours to attend a display appointment so be sure you allow enough time to travel to and from the display you are visiting.
Orbit Homes understands how important it is to have the opportunity to visit a display when making your home buying decision. Our priority is to keep our staff, clients and the community safe during this process so masks must still be worn by all visitors to our displays. As recommended, we are continuing to maintain high levels of hygiene across all of our display homes as well as regularly disinfecting any high-touch areas. Hand sanitiser is also available upon entry and exit of our display and sales offices.