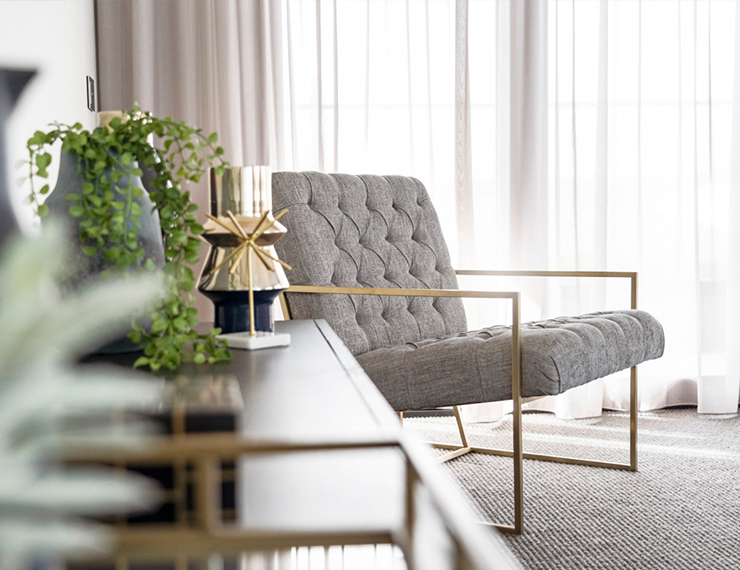 Experience Manhattan Luxe - A Video Tour of the Bolton 362 at Bloomdale Estate
A Provincial Exterior
The Bolton 362 is a welcome addition to Orbit's luxury home design collection. At Bloomdale Estate in Diggers Rest, you'll view this display home showcasing our Provincial facade. Inspired by the detail and grandeur of early European (particularly French and Italian) architecture, this modern Australian interpretation of the Provincial look is more streamlined and the style is a little less imposing. While still being a statement vision, this facade is beautiful with classic lines that create a sense of tradition. Balanced proportions are a major focus of the aesthetic - the symmetry cannot go unnoticed.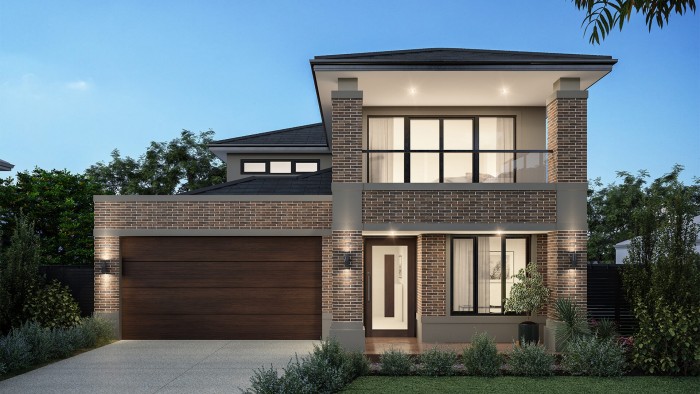 Keeping with the tradition of Provincial style, this facade is built with sturdy bricks and James Hardie cladding. The colour scheme of this design matches the landscape - natural beige accents mixed with warm browns and greys. The windows have small, tidy panes and the entry door is large and grand. The rustic timber textures are also a focal point worth noting on this facade. Specifically, the front door makes a stunning impression with its unique 'floating' timber panel completely surrounded with glass that allows for an abundance of light to enter the home.
Ground floor styling - Meet Manhattan's Urban Appeal
Inspired by the chic design style of apartment interiors in Manhattan, this look combines the Big Apple's glamour and sophistication with modern luxury. Many a TV series has helped to set this scene - think of the opulent penthouse suites featured in Gossip Girl, or the spacious and dreamy Upper East Side apartments showcased in Sex and the City and Girls. These charming interiors feature lots of open space, large windows that let in an abundance of natural light and a carefully curated combination of styling elements - moody tones, dark timbers and exquisite fabrics that bring dreams to life - quite literally since most of these TV apartments either don't exist as depicted or are well and truly beyond the budgets of any of the characters that supposedly rent them.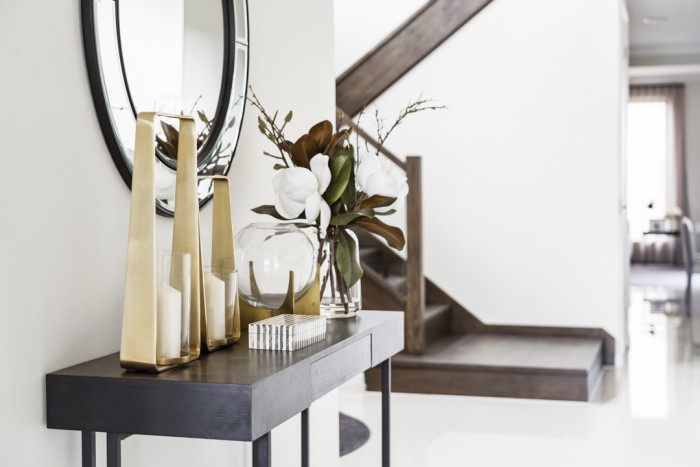 Upon entering the Bolton 362 at Bloomdale Estate, you will notice how luxurious and expansive the space feels. Your eye is immediately drawn to the well-chosen and beautifully styled black oak single draw console with stainless steel legs. The piece stands out agains the light walls, glossy tiled floors and high ceilings. Atop the console is a bouquet of fresh magnolias and two tall brushed gold candle holders. On the wall, notice the large round mirror with beveled reflective frame - another contemporary piece that adds character to the entry by way of light reflection. As you walk through the hall, there is a lavish guest bedroom to the left, with private ensuite and walk in robe. Beyond this, the space opens onto the study with void - a nod to New York's loft living era of the 50s and 60s when musicians and creatives flocked to the city in search of cheap spaces where they could both live and work on their craft, transforming empty warehouses and factories into suitable spaces.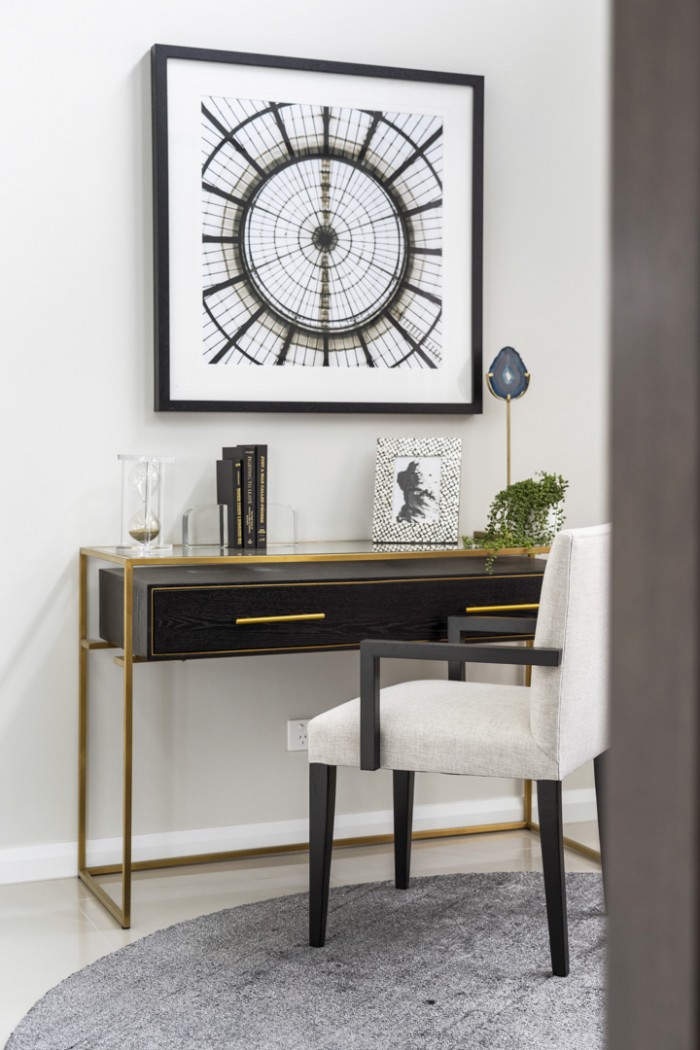 One of the Bolton's most loved features is the stunning U-shaped staircase in a striking deep yet warm chocolate timber. The glass balustrade with matching timber hand rails are details that elevate the Manhattan Luxe look and beckon you to tour the upstairs area. The staircase also houses a cleverly concealed yet pleasantly large storage cupboard - space is highly prized commodity in New York - as it is in most city dwellings but the Bolton offers you plenty of space to live, breathe, rest and entertain in luxury with its impeccable design.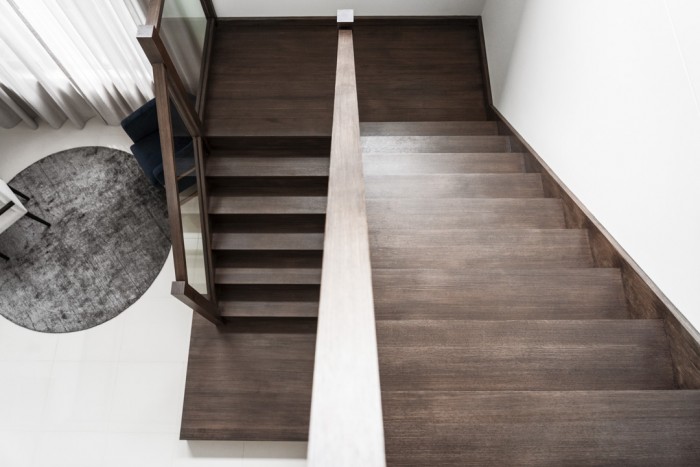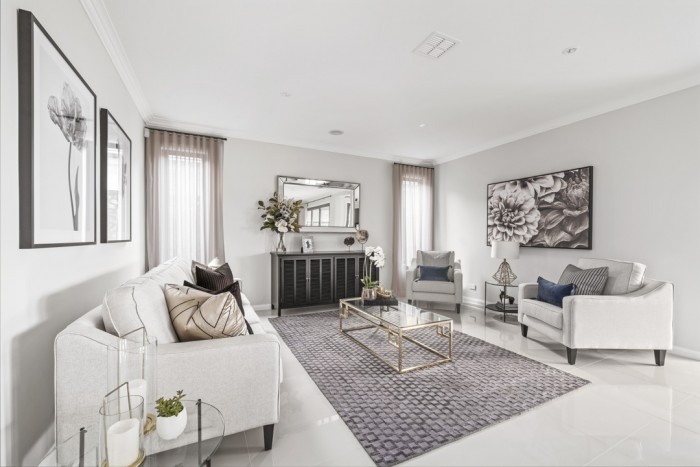 Beyond the staircase, the downstairs opens up onto a sprawling family, meals and kitchen area. The kitchen joinery is a warm timber tone and coheres beautifully with glossy black wall tiles and the dark slate benchtop - a glamorous backdrop for cocktail parties and dinners with close friends. Contemporary matte black tap ware adds a touch of rawness to the look and brings depth and texture. Reflective surfaces and exotic timber are quintessential to this scheme, as demonstrated by the dining setting. A table top of clear tempered glass is paired with modern geometric legs made of charcoal stained mahogany, sophisticated and modern. The matching chairs are a classic shape with subtle corners and are upholstered in a plush, creamy linen creating a tasteful contemporary accent.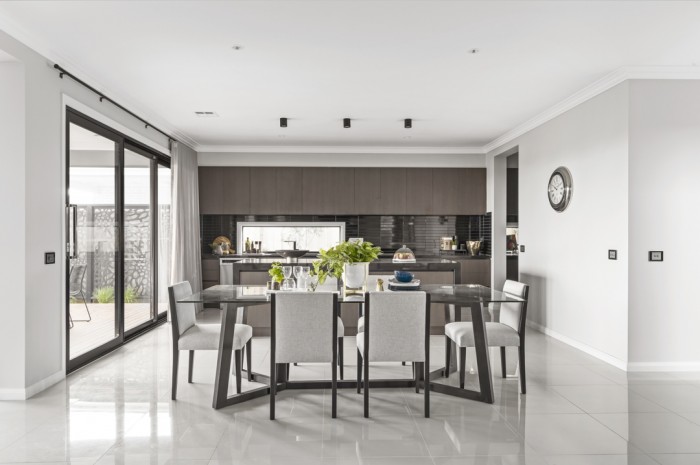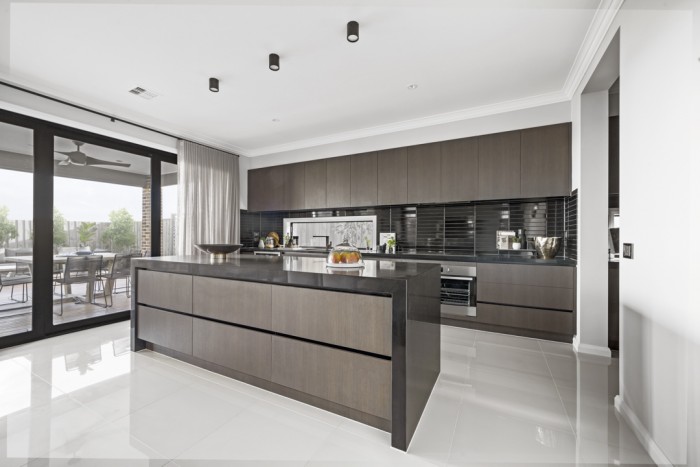 Upstairs styling - Luxe Living in Detail
The upper floor of the Bolton 362 conjures New York penthouse vibes and features three additional bedrooms including the master bedroom with ensuite and walk in robe and an additional, but more private sitting room with balcony. This space is immersed in light with multiple tall windows and they are beautifully dressed with floor-to-ceiling light weight S-fold sheers in a shade of oyster.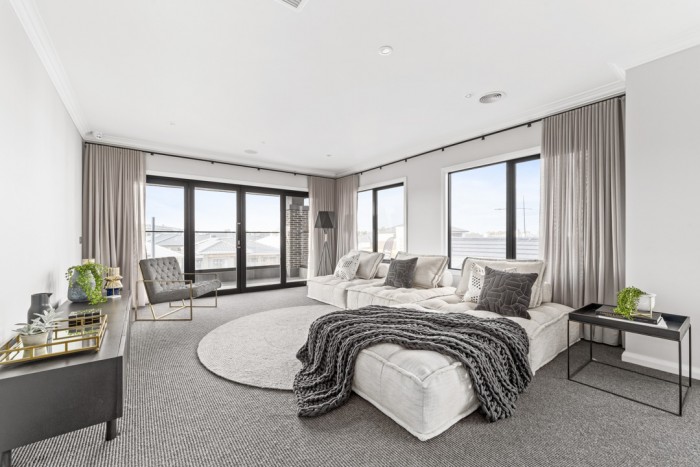 A unique L-shaped sofa has been customised to fit the room with a flexible and modular design that allows separate pieces to be added, or moved around at will giving the interior a bespoke feel. The soft linen fabric upholstery is a shade of shell and contrasts pleasantly with the dark timber furniture pieces and tonal grey fabrics of cushions and a chunky wool throw. The round hand-woven rug in the centre of the room adds a warm layer of tactility and softness that catches the eye and brings cozy character to this modern interior.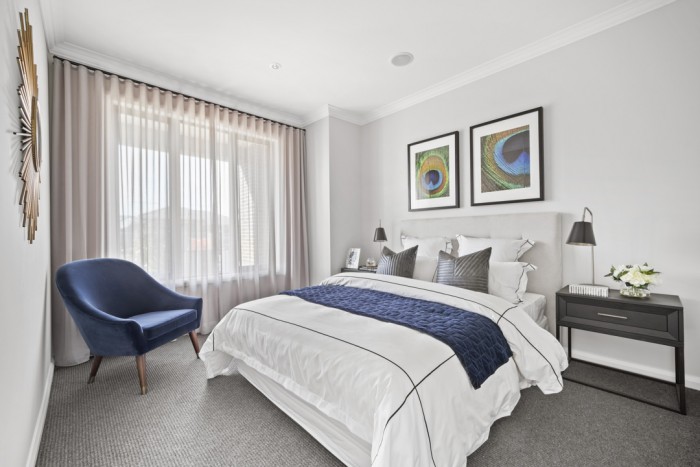 The master suite is a vision of pure luxury with fixtures and finishes that create clean and uncomplicated lines placed beside furniture pieces that exude modern opulence. The walk-in wardrobe has been customised to offer ample space for clothing, accessories and a shoe collection Carrie Bradshaw would be proud of. The theme of dark timber and moody tones continues here but a glamorous velvet ottoman in high-contrast indigo places a pop of colour in the room's centre and adds an individual charm.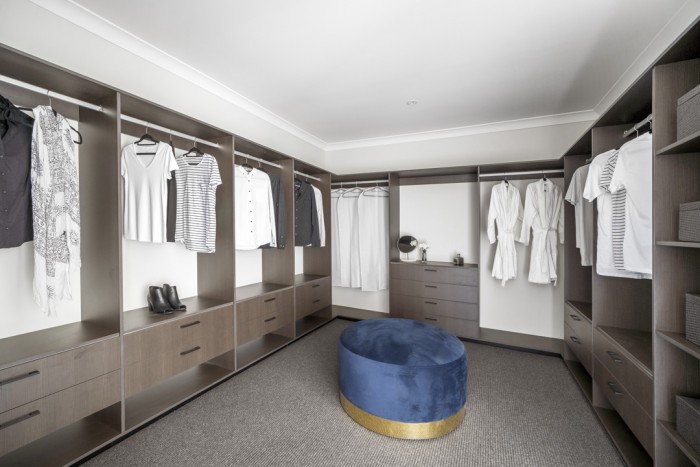 The master ensuite features black gloss tiles on the floor and walls and as light floods through the window this creates a striking sense of space in an already sizeable bathroom, stepping up the Manhattan style glamour. Incorporating layered hues and materials here such as the warm brown timber cabinetry, moody black granite benchtop, crisp white ceramic sinks and luxurious Caroma Blanc freestanding bath, plus the inclusion of glass, chrome and gold accessories creates the finest of spaces and suggests serious opulence.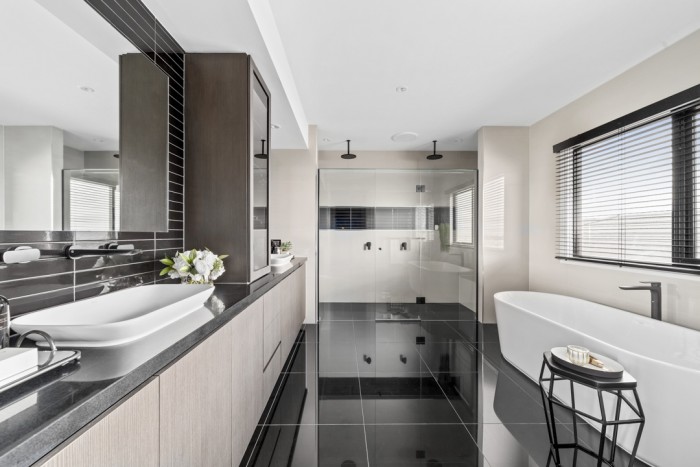 Create the Manhattan Luxe scheme with moody tones, warm timber furniture and plush, beautifully crafted fabrics. Enhance the look with reflective surfaces such as glass and mirrors and finish off with decadent ornaments and metal accessories and trinkets. If you'd like to know more, contact us today!